Tag:
Amarna Family Group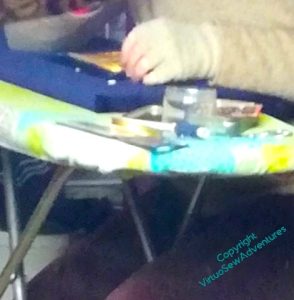 The next challenge was to work out how to attach the Family to the navy blue velvet stele I had prepared for them. It was a bit too awkwardly sized for the various tables I have tried to work on – or they were at entirely the wrong height – so I ended up perched on a stool beside the ironing board.
What's the phrase? Adapt, improvise, and overcome!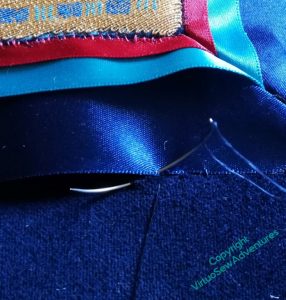 I keep trying to make use of my Grandmama's curved needles. For some reason it has become one of those skills I am determined to master. Goodness, I wish I'd asked Grandmama how she managed!
In this case, I began to feel that maybe I was getting the hang of the idea. Gradually. Work speeded up a little after I managed to remove a burr from the point, restoring the proper sharpness.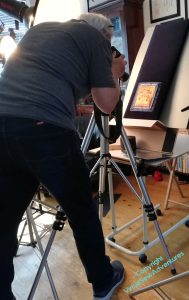 I was a bit baffled to begin with as to how to remove that burr, but a question on Mastodon elicited several replies in varying detail. I used a nail file, since you ask (lowest tech solution), although one of my friends suggested a dart sharpener – which I never even knew was a thing that existed!
I have a lot of mounting embroidery in my future, so I suppose I am going to get the hang of it – or go stark crazy, of course, always an option!
Anyway, several stitching sessions later – the Family had to stand on their heads for their closeups, to bring themselves into reasonable range of the camera!
Next page →