Adding details to the Amarna Family Group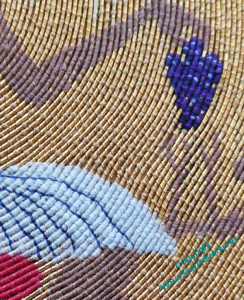 It has been some time since I reported on the Amarna Family Group, and that is partly because, when I had finished the basic design, I was more than a litttle uncertain how much detail I wanted to add, and quite frankly, I was a little unnerved by the mere idea of adding any detail at all!
However, eventually, I gathered my courage in both hands, and started to make an attempt. First, a few lighter and darker purple stitches on the grapes – I may decide to add more, but I don't want the details to overwhelm the design.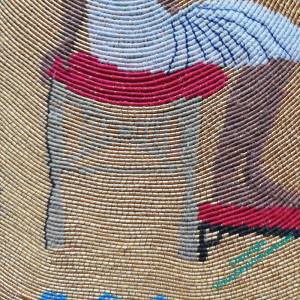 And this is the point at which I went astray. Whitening the kilt with dark lines for the creases and additional white stitches was rather difficult and stressful, so I moved on to tackle the seat. I tried to add enough details to bring the seat to life and pull it away from the background, but instead found it too detailed, too fussy, drawing the eye away from the warmth of the family group and emphasizing the furniture. Not at all what I wanted.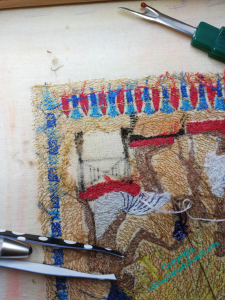 I left it alone overnight, hoping that it would settle together and I would see it with a clearer eye.
It didn't settle together, and I did see it with a clearer eye. I was so frustrated and upset, I didn't stop to take a picture, but sat down, picked up scissors, stitch ripper, tweezers, and a blunt tapestry needle, and unpicked it.
It took all day.
That was some time ago, so Episode 50 of SlowTV Stitchery is about Something Else Entirely. A fishy experiment is introduced and there are some musings on the blending of threads.