More on the Amarna Family Group
So, edges. Obviously, with the straight version of this technique, the edges are simple – either every single one is plunged, or maybe every other one, if the threads are used doubled. I have a strong aversion to plunging threads, I hate waste, and I just couldn't face the tangles I experienced when I was working on Christus Natus Est.
So the edges of this piece are being done simply by turning the thread back on itself. I will, of course, have to cut the thread to fill in the corners, but that's much less fuss, and I am intending to oversew each end very firmly, and not plunge the threads at all.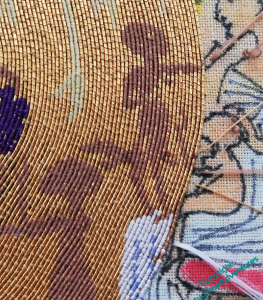 I began on Nefertiti's dress intending to do something like I'd done with the pleats on Akhenaten's kilt, but making the lines more definite.
Having started, though, I decided it wasn't at all satisfactory. Whether it was the wrong colour, the wrong resolution (not that I can make the lines any narrower!), or simply not simple and crisp enough, I'm not sure. I was sure that it needed to come out.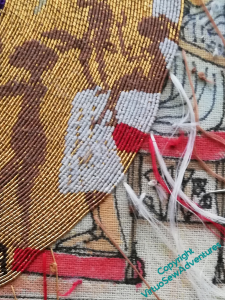 So that's what I did.
Unpicking is really not fun, and some of the white silk fell victim to my unpicker, so the raggy bits had to be eased to the back and tidied up before I could even think about reinstating the white.
Notice, however, that the little girls are making pretty good sense just as they are!
The next episode of Slow TV Stitchery is up – Episode 24 – which covers Looking ahead to The Next Epic Project, lessons from the Impressionists, and the trick of making a design's evolution look "meant". Do go and have a look!