Tag:
Dreams of Amarna
One of the joys of this past year has been the "Georgette Heyer ReadAlong" on Twitter, founded by @MissElvey. In fact, do read her account of why and how she started it. It spun off quizzes via Zoom on Christmas Eve and New Year's Eve (I think I'm right), and so far two Zoom sessions of book recommendations, which have both added substantially to my list of Authors I Enjoy.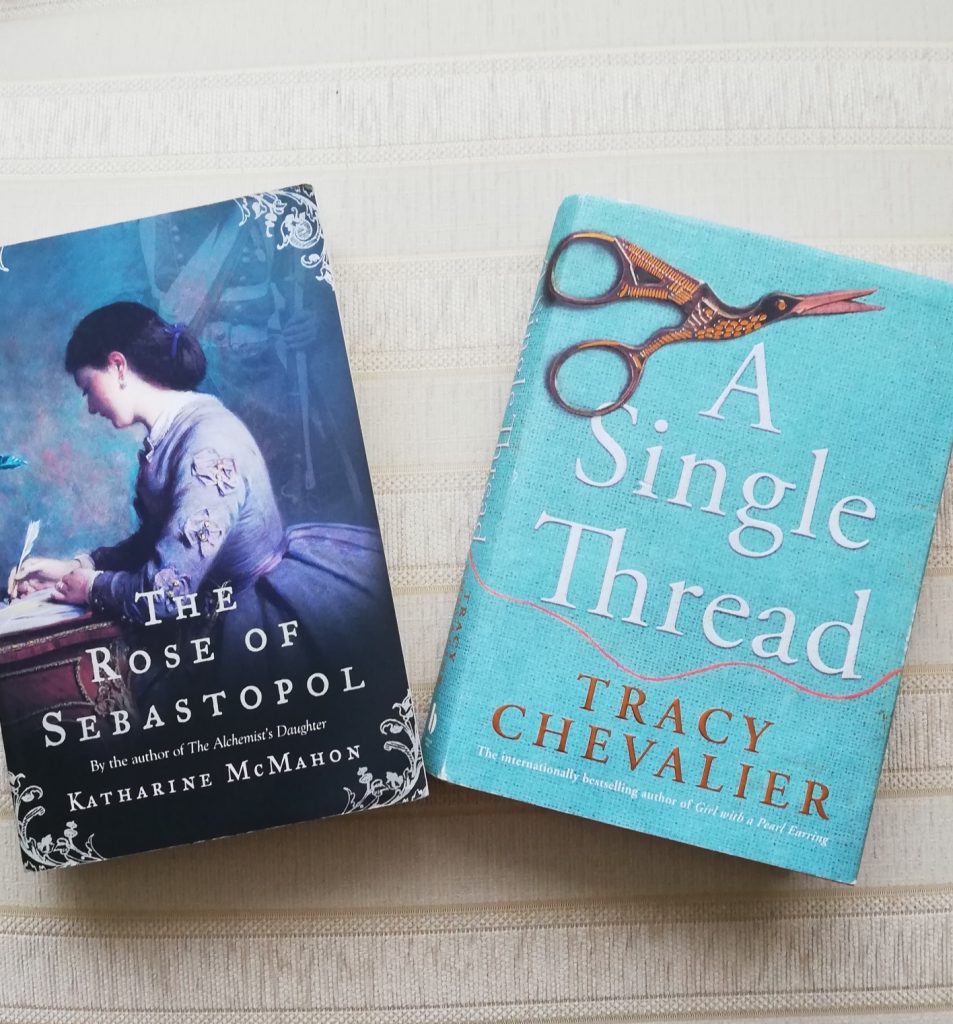 "The Rose of Sebastopol" was recommended during one of those, and quite apart from the fact that it's the quiet, conventional cousin that goes off and adventures, the striking thing about the book is the very prominent part that needlework plays in it. The main protagonist is a highly skilled needlewoman, and needlework becomes both her refuge and her superpower as she uses it to transform herself and those around her to meet challenges she never expected to face.
Reading it, I realised that in over forty years of voracious reading, I'd encountered very few books in which needlework of any description played a prominent role. I thought a bit harder, and came up with Tracy Chevalier's "A Single Thread", in which the main character joins the Winchester Broderers, learning needlework almost from scratch.
So I have started asking for suggestions on various social media, and on SlowTV Stitchery and putting together a list. There have been more suggestions than I expected to find. In a few days, I will put the list on a separate page you'll be able to find across the top of the page, and I'll add to it any that are suggested to me, but bear in mind that I won't have read them all yet, so I can't offer personal recommendations!
The eagle eyed will have noted that my Ko-fi button has a specific aim now.
With the exception of one last piece to finish (and you will be seeing that, I promise) I believe "Dreams of Amarna" is now finished and just (just!, she says, whimpering quietly) needs to be assembled for display.
I've put so much effort into it that I would like other people to see the various pieces, but in order to hold an exhibition, as well as the excitement of preparing things for display, there will be supporting materials required. I don't even know what those are yet, and I would be grateful for any support in arriving at the start of that adventure..
Advice also welcome!
In the meantime, please enjoy Episode 53 of SlowTV Stitchery, in which we continue to search for needlework in fiction, accompanied by the string quartets of Maddelena Lombardini Sirmen.
Next page →