More Progress, Amarna Family Group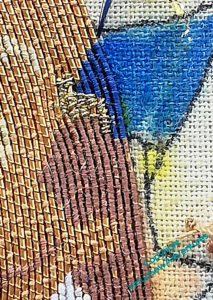 As I kept on with the little girls, of course, I kept on with Nefertiti, and eventually tackled the famous profile, which worked better than I feared, although I will admit that the lighting here doesn't let the skin colour show as much against the gold as it does in real life. Next was the gold uraeus on the headdress, which, as I commented when I worked Akhenaten's uraeus, does feel rather "peak Ancient Egypt" in the use of gold to hold down gold! Still, the royal blue against the golds is enough to make the heart sing.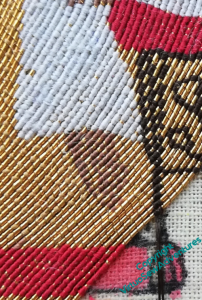 You can see here that the blue in Nefertiti's skirt has been replaced – all but one stitch, which I will have to deal with in the "details" phase of this one – the list for which is getting increasingly full of anxieties!
Nefertiti's feet were among the anxieties, but as you can see from this photo, just leaving them right to the end was increasingly untenable, in spite of the stool leg and the foot cushion to anchor the gold threads.
However, the difficulty of working them starting away from the rest of the body was also considerable, and I do think I made the right decision in waiting until I could start from the legs!
I'm still not sure whether I will fill in some of the sections of the stool Nefertiti is sitting on. At the moment, it looks strong, but it doesn't separate itself from the background as much as perhaps it should, especially as the figures are looking so striking. I don't want Nefertiti to look as though she's sitting on air!
Episode 28 of Slow TV Stitchery is now live, and it considers the post mortem reputations of kings, the perils of scarifying a lawn, and the expertise of the laundries of Amarna.