Tag:
Knot Garden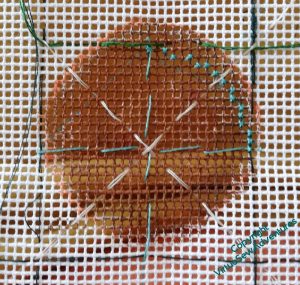 One of the original stars of the inspiration picture was a circular bed with something exuberant in it, at the centre of the garden. As you can see, I put some effort into planning where it would go, and how I would get something close enough to circular, using the gauge of canvas I'm using.
The intention is to create a sculpted Turkey Work boss, but now I have the outline in place, I think that should wait until the last moment, when everything else is done, and I'm not scrolling backwards and forwards across the frame all the time.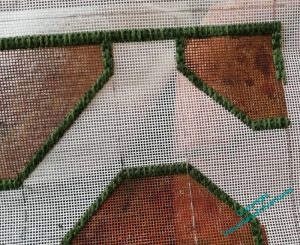 So I went back to the borders representing the outlines of the beds, trying to keep the design crisp and balanced, so that whatever I put in the borders can be suitably displayed. And therein lies a problem. When I sat back and looked at what I'd done, I thought it didn't look nearly strong enough for what I was going to create.
Why, I wonder?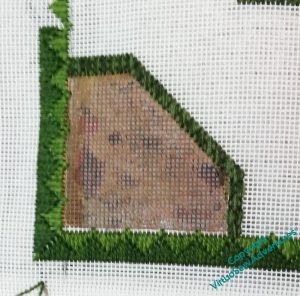 Well, I think it relates to a certain sameness. All the borders are the same stitch, and it makes it look less like something inspired by a garden, and more like something inspired by a drawing of a garden.
So I've changed the outer border to something chunkier and with a slightly different shape, and so far I think it may be working!