Tag:
Vision of Placidus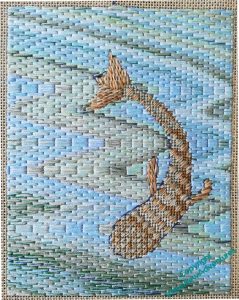 So now, having finished my two fishie experiments (there may have been a third in the pipeline, but I've forgotten what it was!), what can I say I've learnt?
First, canvaswork stitches against the freeform bargello. There's a sort of stillness, almost a static quality to this fish, in spite of the flowing bargello.
The bargello works well, although now I look at it, I've not managed to keep it flowing from top to bottom. And it was remarkably difficult to keep track of the pattern across the fish.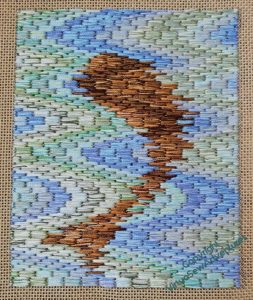 The second fish was an attempt to suggest the broken outline of an object seen through the interface between air and water. So this time, the pattern of the bargello ran through the fish, and I had to decide at each edge whether to stitch in the fish colour or the water colour. The pattern runs more successfully from top to bottom of the piece, but the whole thing looks a lot more active, maybe too active.
I think the colours are a bit too bright and swimming pool-like, but as these are experiments, using stash, I'm not too concerned about that. What does concern me is that even after these two, fairly substantial pieces, the appearance of a particular blend of threads as it was stitched was sometimes a surprise. It will be hard to pick the right colours to use if I can't rely on my imagination of how the thread will stitch up.
So, I don't know whether I will use this idea for the borders of Placidus, but I've got plenty to think about, haven't I!
Episode 69 of Slow TV Stitchery is now live, on talking projects, the development of musical taste, and the challenges of suggesting wind over the water.
Next page →