Search Results for: Christmas Angel
Rather than being stitched in time for Christmas, I found myself stitching the Christmas Angel over Christmas. About halfway through the stitching, I also coloured in the hair with brown pen. It helps keep the head distinct from the background and the wings, and somehow pulled the whole thing into focus.
My invented bargello pattern of various pearl cottons, including some with a metallic twist in them, has turned out fairly well, if redder than I expected.
As a result, I chose to stitch the shoulder cape in greens. There are two variants here – green with a gold thread and green with a bright green thread. I've been using the green and gold as the striped "framework" for the Cape, so I simply used the green and green for the spots. The shoulder cape will be outlined to allow for a bit more shaping, using couched gold thread, but that's one of the last elements of the design.
The next challenge was to decide how to work the wings. I started off wanting to create some sort of strong patterning, just with the stitches, but in the end I realised that, as the background is going to be strongly patterned, and the cape is so striking, the eye will need somewhere to rest.
So, plain brick stitch it is, although in another of those glitter-twisted pearl cottons, which are quite ridiculously tender and tricksy to stitch with, at least on this canvas. Even Gilt Sylke Twist and Gold Wyre seem robust by comparison!
While I am still trying to work out how to do the Chorus of Angels, I've decided to work a single Angel from the Chorus in an entirely different medium – needlepoint. The original idea was to have it done by Christmas, but I'm becoming aware that that isn't very likely now.
Once I'd made that decision I had a lot of fun playing with bargello patterns and trying to choose something suitable. I'm using a fine canvas – 18 count, I think, although as it came, unlabeled, in among that collection of supplies that included several frames, I'm not sure. It's full of size and is going to be rather a trial to stitch, I fear.
I've decided to use the gold pattern on the far left (slightly altered) for the background, to give an effect a little like the patterned gold background of an icon. The lines of this panel are so simple that I can afford to use some quite complicated patterns, I think.
In the end I settled on the green and red spots in the upper middle for the cape, although choosing the colours hasn't been quite straightforward. The wings are still puzzling me.
Since I have decided on a gold background for the angel, I decided to paint the background canvas gold as well. That will help to boost any thin coverage.
I've worked the gown underneath the cape very simply, in cream brick stitch, and the face and hands using gold tent stitch. None of the variants of flesh colour seemed right, and the gold does at least belong in the design.
And now, the Finale…
"Angels need wings.  I have never made big wings before, only gauzy ones, so these grew a bit like Topsy! I had, fortuitously, a ball of crochet cotton which exactly matched Gabrielle's dress, but I had already used crochet to make the lace on the overdress. Needlelace seemed an option if I could find a suitable former to hand.  Wire proved to be too thin, and the thread slipped about, so in the end I made a frame from one strand of the plastic coated wire of electric cable.  Yes, I know you can buy purpose made formers but I wanted to do it now.
After drawing the shape on heavy card, and arriving at a good shape was an interesting exercise in its own right, I couched on the wire at widely spaced intervals, then covered the wire and its plastic coat in blanket stitch using my turquoise crochet cotton. Not only did this cover the wire but it provided a anchor for the needlelace itself. I used pea stitch at first then increased the number of loops in each group first to five and then to seven to add "weight" towards the lower edge. I hadn't provided a former across that edge as I didn't want it to be rigid, but needlelace requires just such an edge! A single thread helped a bit but a piece of applied crotchet finally did the trick.
She looked balanced, if a bit subfusc for Christmas, so I added sequins, left over from one of Rachel's childhood projects, mainly cup-shaped but the lower ones are long ovals to suggest pinions. Again, the colours, turquoise and silver, were a perfect match.  Some people have all the luck.  Rachel added crystals to increase the "bling".  The halo is a cardboard former covered with cloth of gold.  I used the gathered side to suggest an aura of radiating holiness and backstitched a banner "Gloria in excelsis Deo" in red on cloth of gold, too."
We timed our photography just right, too – the last sunny day of Autumn, before the weather turned thoroughly nasty on us…
Outside, hanging from a fir branch in the garden, Gabrielle made a remarkably effective member of the heavenly choir.
Lest you imagine my talent for complex projects sprang out of nowhere, I have asked my mother to write a couple of guest posts about one of hers –  Gabrielle, the Christmas Tree Angel. Gabrielle figured on our Christmas cards this year, and she took nearly a year because she was being improvised as she went along.
—
"Looking at my collection of crochet hooks, I decided that I needed to do something quickly if I wanted to use the smallest one before my eyesight made it too difficult.  I am becoming increasingly long sighted as the years progress, and my myopic Impressionist wonderland is receding. Coincidentally, it was Christmas tide, and we had just rejuvenated Bethlehem.  (Ask Rachel!)  A Christmas Angel for the top of the tree seemed the next proper project.
Gabrielle herself is one of Rachel's dolls, rediscovered when we were tidying the loft.  She is just the right size for our Christmas tree.  A rummage through my stash of cloth provided enough satin, a beautiful turquoise, and a square of fine silk which had been the Virgin's veil when we made a crib one year using Rachel's dolls as the cast.
To make the dress I cut out a cross shape wide at the top and bottom narrowing towards the crossing place out of the turquoise satin.  The cross piece itself, which formed the sleeves, was short and narrow.  I hemmed the cuffs and a  small opening for her head before folding bottom to top and sewing the side seams.
Next I tackled the silk over-dress.  A line of open blanket stitch along the selvedge gave me a base for the crochet work I so wanted to do. Again, I used ordinary sewing thread and kept the design simple.  It was surprisingly easy to work.  In no time I had a sizeable length of delicate lace.
The original intention had been to make a cottar such as altar boys used to wear, but the very small size and filmy silk made my stitching look crude.  Instead I used two pieces of folded silk over the shoulders fastened lightly to the satin and covered the raw ends with the very gathered edge of my lace bordered silk. It looks more like a pinny, but billowing satin displays the lace beautifully."
My mother and I have been planning a backdrop for some crib figures I inherited some years ago from a great aunt.
We started off by thinking about a stylised landscape (I might still do that one of these days), and then we thought about some sort of embroidered "stable" (likewise!), but none of the ideas really came together.
The crib figures are simple, and carved in wood, and we think they were bought in Germany after the war. We think that simplicity might be best set off by something really gorgeous and colourful, so then my mother designed a chorus of angels inspired by the "May Queen" design by Margaret Macdonald Mackintosh. She substantially simplified the basic design, added wings and then created two ranks of singing angels.
She's also created a wonderful top panel of graduated blues and superimposed the text "Gloria in excelsis Deo" over the top. At the moment we are thinking about creating an ombré dyed section for the graduated panel, and couching gold and silver threads to make the framework. Then maybe using golden gauze for the lower panel, using a second layer for the capes.
As for the wings – well, detached buttonhole stitch, perhaps? Maybe in Gilt Sylke Twist, if I can get the right colours. I'm torn between a rainbow of colours, as my mother has painted them, or some other selection. Really, it will depend on what takes my eye when I get to that stage!
We want to work it on silk, and I want to be a bit clearer about what I'm doing before I get started. So it won't be done in time for this Christmas.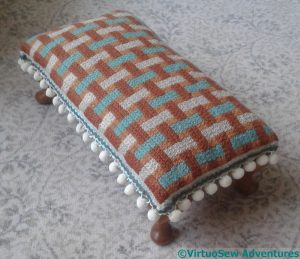 Remember this footstool?
It has a cousin, also worked by Grandmama, which has been working hard as the footrest at my mother's computer desk, and the stitching of which is past recovery.
So the idea is that I should do a canvaswork panel for it, and Only From Stash. After all, where is the point of having a stash if you don't make good use of it?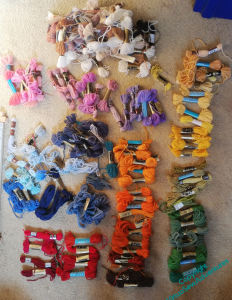 That is all very well – I do have some suitable canvas. Just!
But much of my tapestry wool stash is inherited from others – notice the huge pile of neutrals! – and it might be rather a wild ride to get a 10 x 21 inch piece of sensible 10 count canvaswork out of this selection.
I had intended to do something with Clarice Cliff colours, but as it happens, I don't have as much leftover of those colours as I thought I had. I'm pretty sure that the pinks won't figure, and unfortunately the greens are too thin on the ground and too mismatched, as well. Much thought will be needed!
While I was thinking about that, however, I also prepared Episode 35, the first SlowTVStitchery video for the new project, the Canvaswork Angel, in which the Christmas Angel is introduced, and there is some discussion of the detrimental consequences of visual confusion and the delaying effect of Doubts.
The next episode of SlowTV Stitchery is now live – Episode 30 – in which the cornering plans are discussed, and the future of SlowTV Stitchery is considered, while the second corner is completed.
Since it looks very much as though we're all going to be spending a lot of time at home this winter, I think I'll continue with SlowTV Stitchery, even when the Amarna Family Group is finished. So my first thought is to work on finishing this canvaswork angel, which I started some years ago, galloped through the actual angel, and then ground to a shuddering halt on the background when I got sidetracked by an inspiration for one of the Dreams of Amarna projects.
If that doesn't keep me quiet for long enough, I've been working on a sky for the first version of the North Shields headland that I worked for Leaving The Tyne. This is another piece that simply needs me to sit down and work at it, but although it's small, it's fiddly to hold the frame and stitch at the same time. Putting it on my stand and using my magnifying light will help me to settle down to it.
But first, the Angel. At least, until I run out of metallic threads!
You may recall that last year Meredithe and Anne came up with the idea of managing "Significant Progress" on six old projects or Works In Slow Progress, with room for six entirely new ones – because we all know how easy it is to be completely knocked for a loop by a shiny new project or sudden obsession with a new technique! – and have called the project "6 and 6 in 2018". It was extended to add "6 Yarny Things", halfway through the year. Again, I wasn't very organised about posting updates, but I have at least managed to do a round-up of the year.
So, how did I do?
First of all, the Old projects:
Eve in the Garden of Eden is finished, and so is the Amarna Backpack!
But the Nefertiti Shawl and the Christmas Angel haven't seen any activity at all, although I may have worked out part of my problem with the Nefertiti Shawl, so it's possible that when I work out a new scheme of stitching, I might find that unblocked and easier to work on. For the Christmas Angel, I just need to settle down and persevere…
Akhenaten has moved on significantly, and with a few reservations about detail and solving a few last little problems, I'm very pleased with him indeed.
Now, the New…
Of course, there was the little magnifier cover (finished), which was a vaguely StitchOff-inspired piece worked last Christmas and New Year.
Then there was the little Robin. I've not finished him into something yet, but I enjoyed working him, and I have become a little more comfortable with silk shading!
And, of course, there was "Leaving The Tyne, 1915", which was a very intense, and very long-running project, which, if I say so myself, was finished triumphantly in advance of deadline, and formed part of the display in Liverpool Cathedral.
Then, when I hit the buffers with Akhenaten, because I'm not sure what to do next, I got started on the Head of Ankhsenpaaten. She's not finished yet, either…
And finally, the Yarny Things. These are a shawl, a cape, and three berets. There's another beret somewhere, and a pair of socks. That's seven!
I've also started on a Moebius Shawl, and another pair of socks…. It's just possible that I've taken to crochet more than I might have expected to!
This year Meredithe and Anne have come up with the idea of managing "Significant Progress" on six old projects or Works In Slow Progress, with room for six entirely new ones – because we all know how easy it is to be completely knocked for a loop by a shiny new project or sudden obsession with a new technique! – and have called the project "6 and 6 in 2018". I wasn't a very organised contributor last year, and I probably won't be this year, but I do intend to try!
For the sake of accountability, here are my "old" projects:
First of all, "Eve In The Garden of Eden". This means constructing and covering the box. That in turn implies the use of glue, which as I've mentioned before, makes me very nervous indeed. It will probably take some effort to get up the courage to tackle it at all!
Secondly, the Nefertiti Shawl. It's such a lovely cheerful colour that I want to be able to wear it, which should be incentive enough, wouldn't you say?
Thirdly, the Amarna Backpack. I've made a fair bit of progress here, and I've learnt a few useful lessons, but I want it to be useable, and preferably lined, by the middle of the year.
Fourth, the Christmas Angel. It really is simply a matter of getting it set up so it is convenient to tackle this one, but of course in terms of work to be done it has strong competition, from number five.
Fifth, of course, is Akhenaten. I've put him away over Christmas and missed him terribly, so I have a strong feeling that he's going to send the rest of them to a distant second place!
Sixth isn't really a single project, but rather the crystallisation of ideas which are already bubbling in my head, like the Faience Necklace, and the beginnings of ideas for the Vision of Placidus. There are some that need to be out on paper for the next stage of mulling over. Anything that helps with that will make this year a huge creative success!
I have had a look at my progress on the projects I listed for the challenge run last year by Meredithe (Pomegranate and Chintz) and Anne (Frayed At The Edge) – 17 UFOs in 2017.
In most cases, I didn't even look at the projects, in spite of my very best efforts. In my defense, when I made the list, the projects for the Head of Nefertiti, Akhenaten, and my two little Amarna Princesses hadn't even occurred to me, and they completely distracted me! Their project for this year – "6 and 6 in 2018" takes this possibility into account, allowing for reports on six old, or at least long-running, projects, and six brand new ones which pop up out of nowhere. I can't be the only one who gets completely taken over by new ideas!
So, here's the round up…
1 Eve in the Garden of Eden – all I need to do here (all!!!) is to make the box. At the moment the fabric is pinned out to straighten it a bit. I think I can call this "substantial progress"!
2 Nefertiti Shawl – I've recently written about the headache that this has given me. I need to get all my silks out again, and think hard about the next stage. I think I may have the faintest hint of an idea for it, but as I say, that needs much more thought.
3 Queen Anne style teacloth – I got something done on this when we had a bit of a heatwave, and I've worked out the stitches for the Blue Flower. I just haven't done all of them yet. "Progress", but not "substantial progress", I think!
4 The Modern Stitch-Off –  I think I will decide that this is finished, but I reserve the right to change my mind!
5 The Christmas Angel – I made a good start on the background, but there is a good deal more to do – again, "Progress", but not "substantial progress".
6 The Faience Necklace – I've thought about it, but done nothing…
7 The Swan – not a stitch!
8 The Unicorn – not a stitch!
I think it is fair to say that since I was ambushed by some wildly exciting ideas, it's scarcely surprising that my attempts to finish other projects fell somewhat by the wayside. It was a nice idea, and I'm glad that Meredithe and Anne came up with it, but we none of us allowed for my wayward spirit of invention!