Tag:
Little Jacket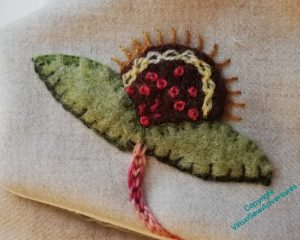 The style of the embroidery for the masks is just like on the Jacket itself; felt as the basis, enlivened with wool stitchery. In this case, Mountmellick stitch and grouped blanket stitch on the leaves, French knots, cable chain stitch and half chevron stitch on the bud (if that's what it is!).
Since I worked the butterfuly entirely in isolation, I hadn't had to think about the stems, but when I stopped to think, before I worked stems on the masks, I realised that there was a decision to make. The Holly Braid Stitch that I used for the main stems on the Jacket seemed just slightly out of scale for the size of masks, but at the same time, ordinary chain stitch didn't have enough personality.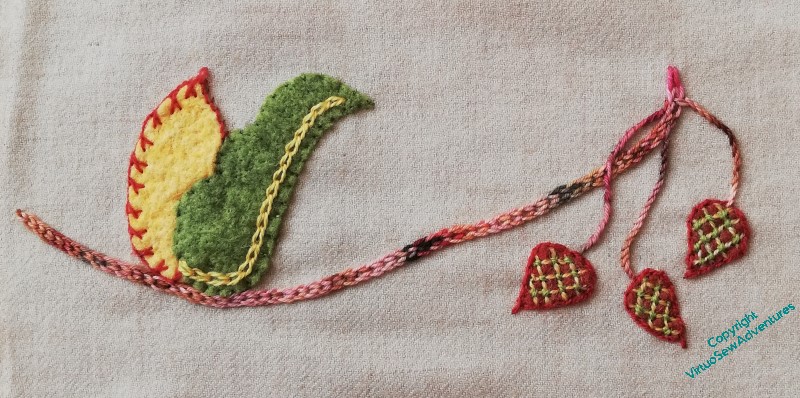 I gave some more thought to the question, and then thought that it was a perfect use for one of my old favourites, Hungarian Braided Chain. The finer stems are simple stem stitch, and it's been fascinating to see how the various different stitches have displayed the variegated knitting yarn differently!.
Jacobean trellis stitch is another old favourite, and the crossed blanket stitch over the bright yellow pulls the orange across from one side of the mask to the other.
So I have ended up with three masks to go with the Jacket of Many Stitches, one with a single isolated motif, one with a motif on each side, and one with motifs on each side, linked by a stem. They're lined with calico, and I'm adding the wires from a couple of defunct single use masks to hold them a little more closely to the nose.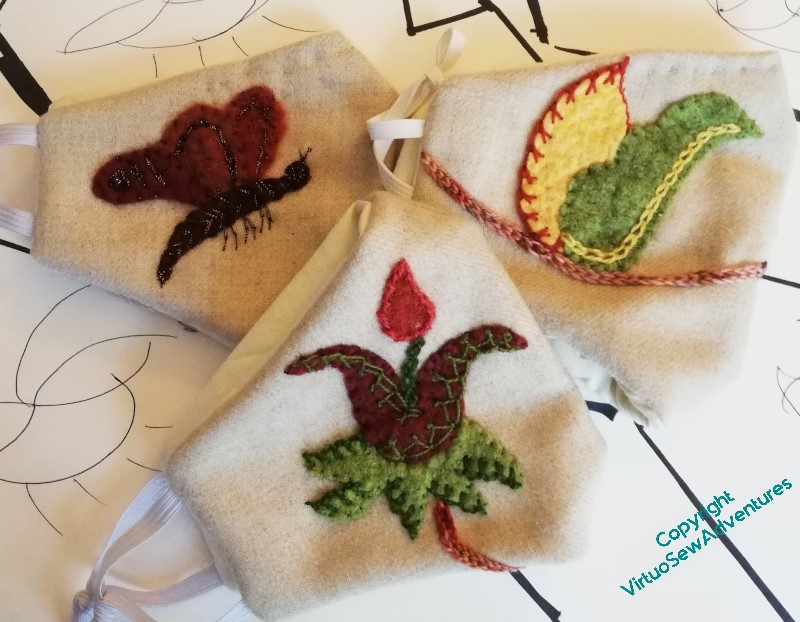 A success, I think!
Next page →