A nice, soft case for my lorgnettes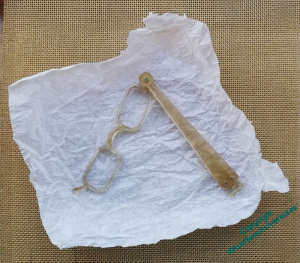 An old lady of my acquaintance once said to me, "Getting older is no fun, dear, but it's better than the alternative". Well, one of the effects of getting older – for me – is that I now need reading glasses. If I try to move while wearing my reading glasses, the results are sometimes disconcerting, sometimes positively disorientating.
I'd been wondering about what to do about this, until at the end of 2019, it occurred to me to channel my inner Lady Bracknell, and start wielding a pair of lorgnettes. I duly acquired some, with my usual impeccable timing (Ha!) at the beginning of March 2020.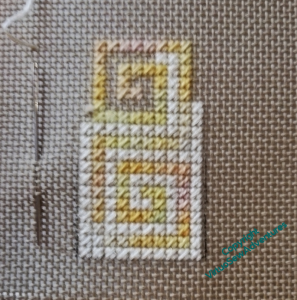 Since then, of course, museums and menus have alike been out of reach, and I stowed the lorgnettes in my "Eve In The Garden of Eden" box in hopes of happier times to come. I've decided to get started on a case now, so as to be prepared for those happier times.
As I'm now dealing with the exhaustion consequent upon getting within sight of the finish on The Amarna Family Group (which has been going for nearly a year) and the Christmas Angel (begun around Christmas 2015!), I've been looking for small quick projects to reset myself, and this should be a good one.
This is a piece of 22 count cotton canvas I found lurking in my stash, and so far I think it will be very simple. I think six repetitions of the scroll will allow me to wrap the lorgnettes with a closing flap, and the light yellow (pearl cotton) and cream (stranded cotton) should make it eay to find in the depths of my handbag.
Episode 59 of SlowTV Stitchery is now live, in which we have almost recovered from the unpicking following last week's stitching, and consider the particular delight of a fully-stitched fabric.