Tag:
Goldwork
We left the design in a sort of semi-developed stage, and the next stage was to work out which border I was going to use…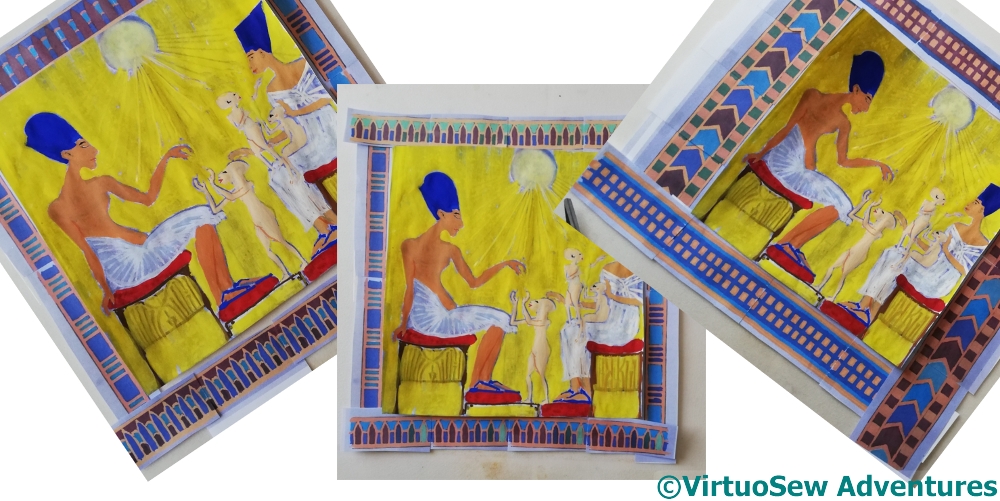 So, the one on the right – no, the borders are too wide, and given the size I'm going to do it, they'll take away too much of the design area from the family group. I do like that arrowhead design, though. I wonder where else I could put it?
I started playing around with the widths of the borders a bit more (computers are very useful for scaling fiddly things like this – more new tricks learned!), and ended up with something I think will work. You can see that there are some details I've not quite settled yet, and indeed, I think I've decided to reverse the colours in the vertical borders. The blocky colours come from having used the computer to produce a line drawing, and then coloured it in by computer as well.
The design is now transferred onto the calico, and coloured in with inktense blocks. Rather sloppily, I know, but none of this will be visible, and I will be tweaking the design as I go, in any case. This is just to give me a a better chance to keep track of which colour I'm intending to use where – that small section with Nefertiti and the two little girls on her lap was dismally confusing before I painted it!
I have begun to stitch, and just as I promised (threatened?), I've been recording my progress, and uploaded the first video to: https://vimeo.com/402311907. It's about twenty minutes long, spliced together from several files, because my camera kept switching off. I did say it would be a learning experience!
I hope it will be interesting, and maybe entertaining, for you all!
Next page →
← Previous page