Tag:
Dreams of Amarna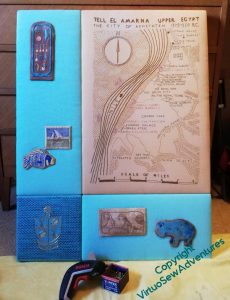 Once the backing boards had been drilled and painted, the pieces could be properly assembled.
And oh, what a world of pain those words conceal!
Never mind, moving on…
I like the look of this – it is the first time I got to look at the panels upright, and it's astonishing what a difference it makes. I've been through the entire process a prey to Doubts, and they are beginning to dissipate at last.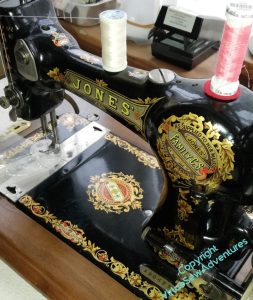 So the next thing was to make it possible to hang the overlays in front. I don't want to have the gauze touching the embroidery, permanently in place, in fact ideally I would like to be able to remove them more or less at will when the pieces are exhibited, so I'm still working out how to achieve that. In the meantime, I decided to put channels top and bottom of the gauzes, so I have an interim solution. That will mean that, for example, I can start to think about booking the second photography session.
Deciding on that interim solution, however, meant fishing out my old friend Jones. Jones was given to me when I was eight, and I did a fair bit of dressmaking with him, until I was deemed old enough not to do myself a mischief using my mother's Bernina. He weighs rather a lot so with years of a bad back, I've not used him for years and years, so I was rather pleased that, first, he worked, second, that when it came to it, I also remembered how to wind the bobbin, and third, getting him out didn't make my back go "spoing!"…! As you see, the bobbin is not quite the same as modern ones, not least in that it is long and thin, and the bobbin carrier (not on display) looks more like an asymmetric torpedo, with a very sharp point.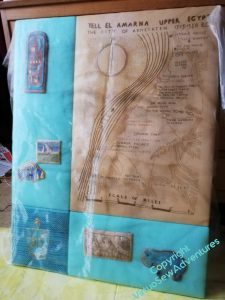 Now I've draped the gauze over the top of the panel it is clear that I need to be absolutely on top of the ironing, since crumples in the fabric interfere with the face showing. It has also shown, however, that the effect that I was reaching for can be achieved.
Next steps – decide whether I need to cover the places where the panels butt together, and (definitely!) iron the gauzes.
But for now, I'm pleased with progress!
Next page →