Tag:
embroidery for interior decoration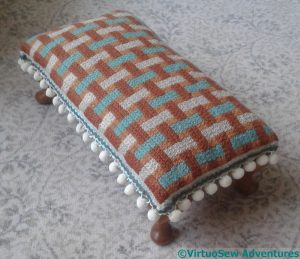 Remember this footstool?
It has a cousin, also worked by Grandmama, which has been working hard as the footrest at my mother's computer desk, and the stitching of which is past recovery.
So the idea is that I should do a canvaswork panel for it, and Only From Stash. After all, where is the point of having a stash if you don't make good use of it?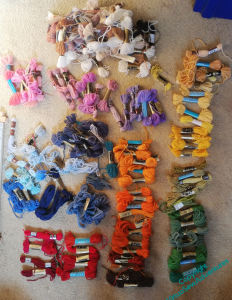 That is all very well – I do have some suitable canvas. Just!
But much of my tapestry wool stash is inherited from others – notice the huge pile of neutrals! – and it might be rather a wild ride to get a 10 x 21 inch piece of sensible 10 count canvaswork out of this selection.
I had intended to do something with Clarice Cliff colours, but as it happens, I don't have as much leftover of those colours as I thought I had. I'm pretty sure that the pinks won't figure, and unfortunately the greens are too thin on the ground and too mismatched, as well. Much thought will be needed!
While I was thinking about that, however, I also prepared Episode 35, the first SlowTVStitchery video for the new project, the Canvaswork Angel, in which the Christmas Angel is introduced, and there is some discussion of the detrimental consequences of visual confusion and the delaying effect of Doubts.
← Previous page