Tag:
surface embroidery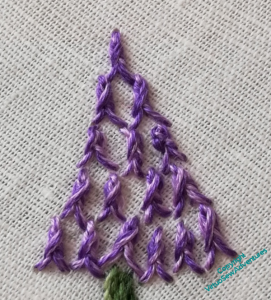 You may recall that I rediscovered the grape hyacinths some time ago, and, once I'd completed the leaves, I decided that the flowers were All Wrong, and took them out. A couple of weeks ago, I think, you saw a post about that, and about the further experiments I made.
The little satin stitch dots were definitely a misstep, so I thought a little harder about what it was I thought so charming about the flowers, and decided it was the slightly ruffled edges of the florets.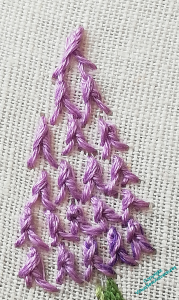 The resultant flower head, with dark stitches over light, seemed rather too much like a chequerboard, so the ones you see here use blended threads, but the same for both layers of the stitch. That's better, although I still have some concerns…
I think the stitches may be a little too long, and I should perhaps make them rather more compact (remember my obsession with scale of stitch – it hasn't figured at all while I've been concentrating on the Amarna Family, but it's something that I've been aware of, and working on, for a long time now).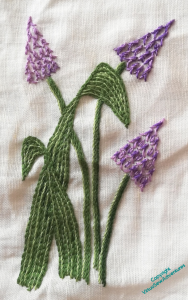 However, by the time I'd done all of them the second (third? fourth?) time, I was a little weary of the design. I've put it away with a mental note to try to find it again in the Spring, and see whether it's easier to come to a decision when I have the real flowers in front of me!
And now, Episode 38 of SlowTVStitchery is live. It discusses shortness of memory, the Neanderthals, and and the terrors of yarn chicken…