Tag:
household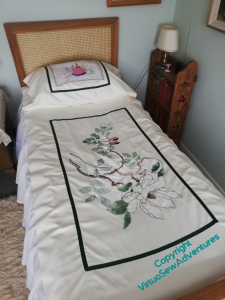 You may recall that my mother was embroidering details and edgings on an appliqu bedcover for herself.
It's finished!
The slightly more marked colours and edgings make sense of it as a response to the curtains, rather than a random slice of curtain material, and the crisp green ribbon frame confines and sets it off rather nicely.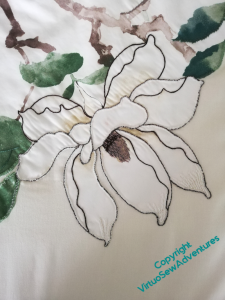 She occasionally asked for my advice, but I can't say she needed it. This is the only point, I think, at which I made a material contribution to the finished piece. The fabric was lamentably keen to fray, so all raw edges needed covering, and this large flower would have looked very clunky with dark blanket stitch.
White blanket stitch, whipped along the outside edge, however – that worked!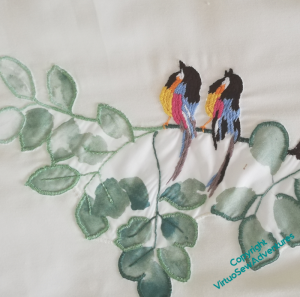 The stitching for the birds was inspired by something Grandmama did, and does look quite feathery, somehow.
It's always satisfying when a plan comes together, even when it isn't one of mine!
Returning to my projects, however, Episode 46 of Slow TV Stitchery is now live, in which are discussed the Delights of Stash and the Perils of OverEngineering.