Tag:
Opus Anglicanum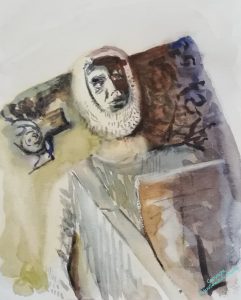 One of the things you need to know before you dive enthusiastically into family history is that the horrors are just as likely as the heroes. In our case, a land dispute at the turn of the 19th Century saw some ancestors of my maternal great grandmother getting their family tree professionally investigated and drawn up. They didn't get the land (although what the Professor of Music at Cambridge wanted with land in London escapes me), but "The SheepStealers", as we call them, have been updated ever since. As far as I can tell, we've got ancestors on both sides of every civil dispute since the Norman Conquest, so we can pick our favourite distant ancestor depending on our own historical hang-ups.
My mother, in particular, was completely thrilled to find that William Marshall, "the Greatest Knight" was on there. We went to his burial place in London, (pre-Covid) and I painted this watercolour of his effigy when I got home.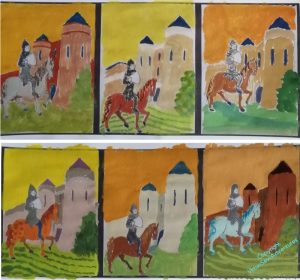 Fast forward some years, and Tanya Bentham of Opus Anglicanum blog, has published a book about Opus Anglicanum, which has got me thinking I would like to do some. I will probably do one of Tanya's little heads to get the hang of the idea, but, being me, I decided that I would, as Ophelia (didn't quite) put it, "wear my Opus with a difference".
So I've settled on Umpteen-Times-Great-Grandfather William as my subject, on a visit to the Château de Tancarville, where he had his knightly training as a teenager. As you can see, I've got out my gouache to try to pick the right balance of colours, bearing in mind that the sky is going to be underside couched in gold. I can't decide whether to make his horse a chestnut, a roan, or a grey – although given it's opus, I get the impression I could make the horse blue and get nothing but praise!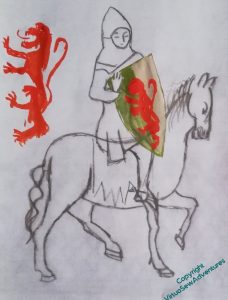 One of the changes I'm going to make to the knight I'm adapting for William, is that I'm going to make his shield a bit bigger, so that his correct coat of arms (this was from memory so I need to look him up) is clear and it is obvious that I'm not doing just any knight, but specifically William. I think I should do something different with his hand, as well as remembering to give his horse reins and a saddlecloth.
So, I need to get to grips with William's real coat of arms, settle on my colour scheme and order my silks.
← Previous page