Beginning The Border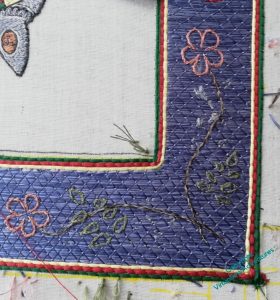 Once I took the tissue paper away, I discovered that in fact my running stitch transfer wasn't very clear. So I'm going to start by split stitch outlining each element before I fill it in.
You can see in this photo that I still hadn't quite got all the tissue paper that had the design on it out from under the stitches, and I'm only part of the way through outlining this corner.
I did think I might try to outline everything first, and then I thought about what happens when I have something like that to do, and decided that each corner would be worked to a finish separately!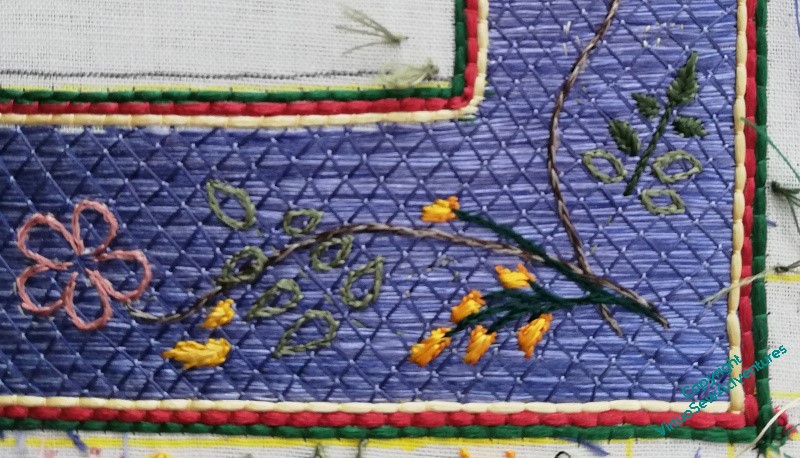 It is probably at this point that I start to wander from the path of classical Opus Anglicanum. I'm using fishbone stitch for the rose leaves and satin stitch for the broom. But after all, this is a modern work, by a modern embroiderer, not a reconstruction of an existing, or imagined, medieval work.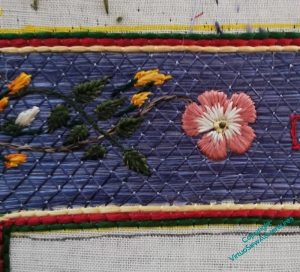 The wanderings continue with the dog roses – long and short stitch in the petals, over two rows of split stitch outline to help define the edges, and a tiny French knot for the dark centre.
I'm using two differnt dark greens for the rose leaves and the broom, to help the design make sense, and I worked the rose stem in split stitch using two shades of brown. I am not entirely sure about that, so I think the next corner around I will use one, maybe the darker one, and see whether that is an improvement. If it is, bringing this one into line might be a bit hair raising, considering how small all of this is!