More thinking about that border design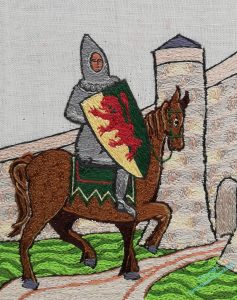 Once I'd got the panel done and got started on the background for the border, I knew that I was going to have a lot to do before the next stage of decorating the border. So I got out my paints, and started to play with the design elements I want to pull together – broom and dog roses.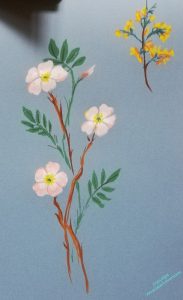 My first effort, based on the drawings in the Observers Book of Wild Flowers, ended up as one of each, rather than a combination, so I knew I needed to think about that a little more; but I also realised that unless I worked out how the combination was going to be applied, I was going to end up doing a lot of work in the wrong direction.
So. Layout. I had begun by thinking about a wreath, but somewhere along the way, it turned into sprigs, and then I started to think about adding another motif – the cross the Knights Templar used, for Temple Church, where William is buried.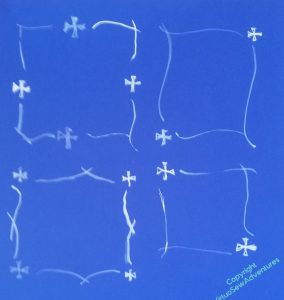 Combining the idea of the sprigs with the Templar cross, I've got four possible layouts, one with a cross at each corner, one with the cross in the middle of each side, and one with crosses on the the diagonals. At the moment, I am leaning towards the one with the cross in the centre of each side. The corner crosses seem to make a less purposeful pattern, somehow, and the diagonals – well, depending on the final form of the sprigs, they may work in the end, but at the moment, I'm not at all convinced!