Another Decision To Make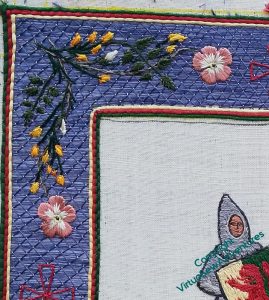 I can't imagine how people can have a design planned down to the smallest detail before they begin. Even when I'm more organised than usual – William is a prime example – there are always details that either escape me, or that I hadn't even considered at the start.
I should say, this isn't a complaint. I don't think I would find it remotely interesting to have planned everything out and have nothing to discover. These days, when I follow someone else's design, it is to learn what they can teach me, so even though the design is planned, there is nothing sterile about the experience.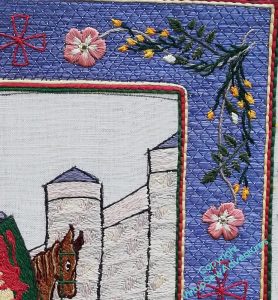 However, the fact remains that I am, yet again, wondering what to choose.
When I twisted together the fawn and the brown silk to stitch the stem of the dog rose, it was partly because I wasn't happy with the colour and wanted to modify it slightly. When it was done, however, I felt that maybe I hadn't, in fact, modified it enough. It seemed too close in tone to the background, so I worked the stem in the top right in just the light fawn.
And all the time I was working it, I felt twitchy. It seemed too bright, too bald, too obvious.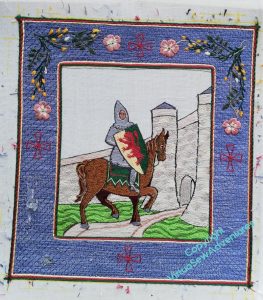 Now I have the top two corners done, and I have a decision to make – two colour stem, or single colour stem?
It doesn't seem quite as glaring from a respectable distance. Note to self: for goodness sake, never decide anything from ten inches away, that's not how anyone else is likely to see it, and if they do, you've already won them over anyway!
There is, of course, a middle ground. I could do the two colour stem on one diagonal and the fawn the another, echoing the angle of the castle walls and the trajectory of William's career.
However, one decision has already been made – remember I wasn't sure whether to fill in the crosses or not? I am now, and they will be filled.