Moving on with William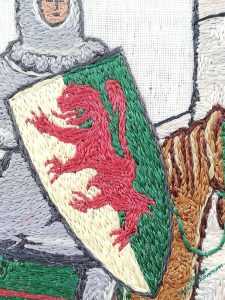 Here is William's lion rampant gules (red), duly completed. As I've mentioned, technically the background should be gold and green (or and vert, in heraldic terminology), but I don't want the gold on the shield to argue with the gold of the underside couching, so I've gone for a pale yellow instead. All things considered, I don't think the lion is too bad, because he's really rather small, so I didn't have very much room for manoevre!
That said, I may choose to tweak him some more before the whole thing is finished..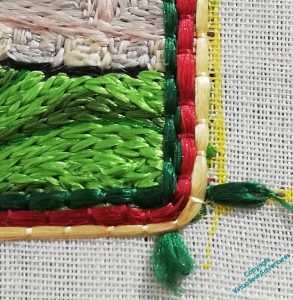 Now then, I need to move on to the frame for this picture, which is going to be the backdrop for the twined roses and gorse. The main border will be blue, but as I was thinking about it, I felt that the junction between the picture and the border needed to be managed.
This is what I've come up with: single lines of William's three heraldic colours framing the picture in laid and couched work. I'm intending to finish the other side of the blue border with the same, but with the colours in reverse order.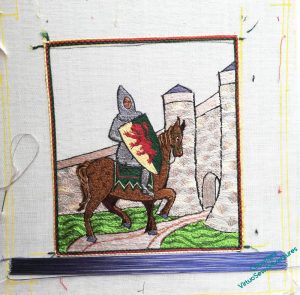 But before I get to that I have to do the blue border, and as I'm intending to use trellis couching, it will be a while yet – three layers of stitching, background, trellis and tie stitches all to do. I'm using thread from three reels of slightly different blues, so there will be some variation in the colour, although as I'm intending to use a single colour for the trellis, it should settle back into a subtle backdrop for the gorse and the roses.