Tag:
Stitch-Off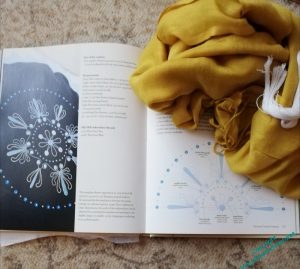 Just recently, I have been feeling rather bereft of the sort of simple embroidery that passes the time pleasantly. I've been assembling the Amarna pieces, and while they certainly engender a sense of achievement, it has not been relaxing. I had a couple of periods in the offing when a bit of stitching in public was in order, so I was looking for something that could be worked in the hand, with a minimum of materials.
In one of my favourite Georgette Heyer novels, "The Unknown Ajax", the heroine (Anthea) is seen, in one tiny incident, following instructions from "The Mirror of Fashion" to make a reticule (handbag) in the shape of an Etruscan vase, so when I was leafing through "Jane Austen Embroidery" in search of inspiration for a quick, easy to carry project, and my eye lit on a circular design inspired by an Etruscan design from The Lady's Magazine of around 1808, it leapt out at me.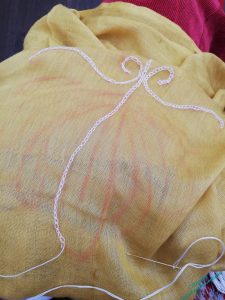 But I have a scarf, not a cushion, so the adapted pattern is going to readapted, and what's more, this is just a little something to remind me that I really do love embroidery. I've been spending so much time on finishing the Dreams of Amarna pieces, that I've done almost no real embroidery for months, and I miss it. So this is simple, sketched on by eye, not seeking perfection, just, if anything, charm. I'm going back to what I learnt from the Great Lady's Magazine Stitch Off, drafting by hand and trusting myself to make something that is as close to accurate as I need it to be.
And indeed, with just a needle and my thread (white cotton floche), I was able to travel very light, and sit quietly stitching in the places where I needed to be present but not unoccupied, stewarding an exhibition and waiting in waiting rooms. It attracted attention, of course, but that merely offers the opportunity to evangelise on the pleasures of embroidery.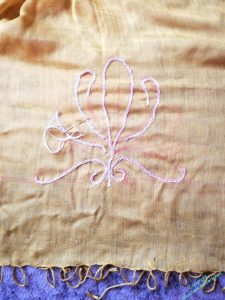 Since I didn't even take scissors, I wasn't able to finish lines of stitching which would take less than a length of the floche, but I can come back to that. I've also decided that I'm going to stitch the same pattern (approximately) on the other end of the scarf. I'm fond of this sort of goldeny mustardy colour, and it will be very cheering to wear when I've finished it!
My apologies, Anthea – when I've finished her, of course!
Next page →