Tag:
design elements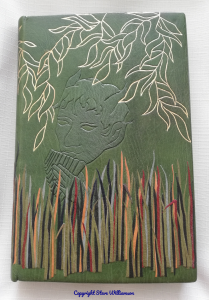 I've been continuing to think about The Vision of Placidus, but part of my inspiration has shifted, from the mille fleurs background of the the Unicorn Tapestry, to the edge-painting my mother did for a Fine Binding she made of The Wind In The Willows.
An edge painting is exactly what it says: colour added to the edge of the codex of a book, often in patterns or pictures that relate to the story or theme of the book.
So, although there may still be animals in mille fleurs fashion in odd spaces in the picture, I'm also planning to design a border. Underwater will be shown below the main image, just above the water surface on the vertical edges, and the sky on the upper border.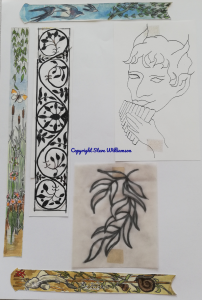 This design sheet shows the design of the edge painting for the book, to give you some idea of what I am thinking about.
There will be a pike underwater, I'm sure, and the vertical borders will be where the kingfisher, and maybe some dragonflies, can go. I might spend some time looking at the symbolism of various animals, just to make sure that the right creatures show their faces.
The corners will probably have the symbols of the Evangelists, but at the moment I'm not sure in quite what style..
In other news, Episode 40 of SlowTV Stitchery is now live, in which we move to the Christmas playlist, discuss the tension between economy and adequate coverage, and express surprise at the amount of real history one can learn from well researched fiction.
Next page →
← Previous page