The Excavation – more progress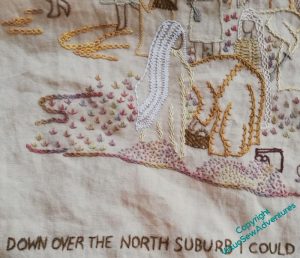 I was clear that the surtitle would be in split stitch, so I got started on that. It's in a dark, plain colour, to be clear and readable and add weight to the bottom of the design.
I definitely like the tête de boeuf stitches. They add visual weight, a good variation in colour, and although the colours in the thread are similar, the small seed stitch spoil heaps at the front look completely different.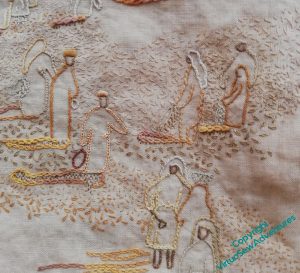 I may yet find I need to add more stitches at the base, above the text, but of course, by now, you are all accustomed to the way I tend to build up these pieces as the elements occur to me!
The middle ground is, so far, not quite so successful. I am using small sandy coloured seed stitches, and they work at some distances, but not quite so well in others. It certainly doesn't photograph well at present. I want to make sure that the colours aren't too dark, because I want it to remain dusty, but developing this section will involve a good few extra layers!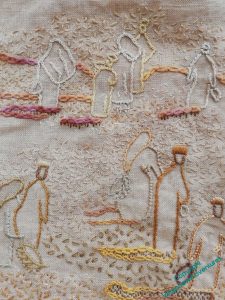 The distant section, I think, has worked. It does all look very dusty, and the distant figures are pushed out of the stitching and don't vanish into the fabric as much as they did.
Adding the random single chain stitches in the mid ground has also helped. They may need some seed stitches scattered through them the meld the areas together, but I am hoping that each part of this scene will make more and more sense as I continue to work on it.
---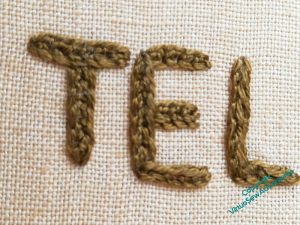 I haven't quite worked out which stitch I used for the title on the Map of Amarna. Quaker Stitch? Whipped or Interlaced Reverse Chain Stitch? I even checked the early blog posts, where I read a somewhat elliptical:
For the main title I picked up one of the stitches from the Tudor and Stuart Masterclass – it's lovely to find myself using a stitch I've learnt recently in a project I first started thinking about over fifteen years ago

Me, in 2012
Be warned by me – better recordkeeping reduces frustration!