The Excavation – dust in the air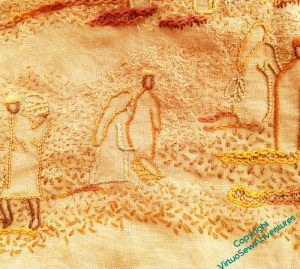 There's a great deal of stitching still to do on the Excavation. I've not tackled the large title because my hoops are in the loft and I've not got them down yet, but in any case, adding texture across the piece to help the figures to pop out a little more is taking quite a lot of work. The seed stitches in the distance and around head height help to create the impression of dust in the air – much more effectively, in fact, than I could ever have hoped. Adding the very lightest cream stitches has made quite a difference, in a subtle sort of way.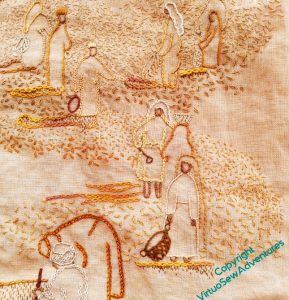 The difficulties come as I bring the stitching forward, the figures being closer, but the air still dusty. There are relatively few singleton stitches, and many of them are quite square and "manufactured" in appearance, making the dusty, earthy effect harder to produce.
Here you can see that as I've moved closer to the viewer, I've moved from seed stitch, to single chain stitches, and now to twisted chain stitches. They are well spaced because I'm intending to flow other stitches around them – seed stitches and single chain stitches, to start with.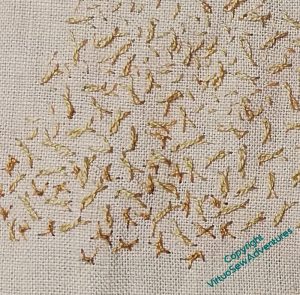 You might just be able to see one of my experiments here, although it must be said, good as phone cameras are these days, this picture is rather pushing beyond the limit.
I've added at the bottom of the section, in among the twisted single chain stitches, a variation on Danish Knotted Cross Stitch. In the original version, the cross is worked first, and the knot on top of it. That helps in working a regular shape, but I want something more tangled here, so I work one stitch of the cross, and work the knot as part of the second stitch. I've found that as I tighten the stitch, I can move the knot a little, and where I place the end of the last leg helps to make the stitch look more ragged.
Whether I like the result or not, I'm not yet sure!