Tag:
canvaswork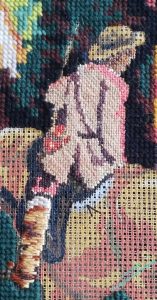 When I first started looking at this canvas, I was reminded of the episode of "A Stitch in Time" in which Ninya Mikhaila did a reconstruction of the garment in a portrait of a hedgecutter on a country estate. The garment in question was made of leather or buckskin and very plainly at least 50 years behind the fashion at the point at which it appeared in the photo. So it had been made for the Squire, and then gradually been passed from hand to hand, appearing to be almost indestructible, if not as good looking as before. So my first thought was to use soft cotton. However, I don't have much soft cotton in my stash, and it turned out too heavy for the canvas anyway, so I used pearl cottons and Caron Collection "Watercolours" thread, one strand of the three. Linen stitch is what basketweave tent stitch looks like on the back, and although it can be a bit tricky to do, and it's more time-consuming than basketweave tent, it's worth the effort!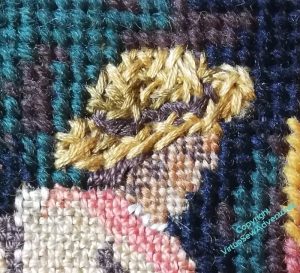 As with the lady at the cottage door, I blended several different shades of stranded cotton to create the approximate shades for the face, and used petit point to bring in a little more detail.
The hat was a bit more of a challenge, but in the end I decided it was a woven straw hat rather than a felt one, and created a criss-crossing effect, with something like herringbone stitch, but worked in a rather freestyle fashion.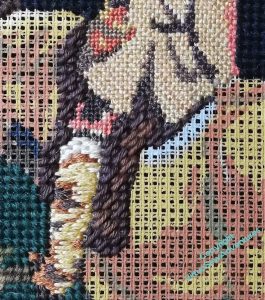 The pouch hanging at his waist is stranded cotton, tiny cross stitches using the single crossing points of the canvas, and I decided to make his breeches in Kelim stitch, hoping it would make a sort of corduroy effect.
Not really, as it turns out, but it was worth a try!
The saddle is soft cotton, and I've used condensed mosaic stitch. I want the level of shine to contrast with the horse, which is probably going to be in Paterna.
Next page →
← Previous page