Testing, Testing (phase 2)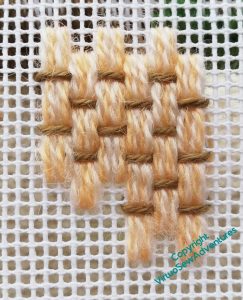 I've been playing around with possible stitches for the pathway in the Knot Garden. In the source picture, it looks to be made of bricks laid in a pattern, rather like a parquet floor.
I don't feel I'm obliged to replicate that pattern, but this one on the left is altogether too square, and won't help the sense of movement I'm going to need to counterbalance the borders, which I rather expect to be rather static, given all the Diagonal Rhodes Stitch that's going to be happening.
The one on the right is the same Medieval Mosaic Stitch from Jo Ippolito Christensen that I used, voided, in the sunglasses case, but this time worked exactly as diagrammed. I like it, and it's easy enough to work, but I don't think it does the job I will be asking it to. I'm sure I will work it for real one day, but not for this project!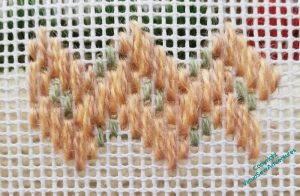 When I replaced the stitches that were voided in the sunglasses case with stitches in a different colour and thread, to point up the woven pattern, I got something a lot more hopeful…
I like this one a lot. Although I must admit it does rather recall the diaperwork you sometimes see on Tudor buildings, so maybe not very floor-like!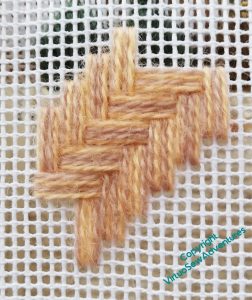 And then I found another, one that actually looks a lot like herringbone brickwork without any adaptation.
I like this one a lot, too.
I will have to see which of these presents itself most strongly when I've got more of the ideas crystallised.