The fence by the cottage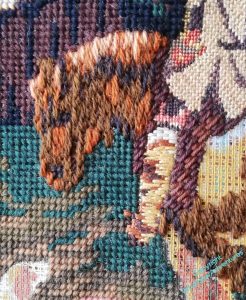 I intended to work the horse using Paterna, in something a little like long and short stitch, but having done his head, I looked at it and decided it needed a little more thought. It looks like some sort of unholy hybrid of horse and highland cow, and I wasn't at all sure that it would look better when I'd done all of it. So I decided to divert my attention elsewhere and think about it for a little longer.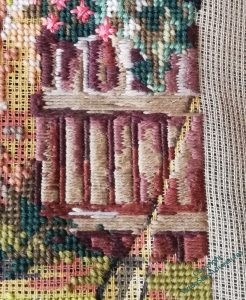 The most obvious element to tackle next was the fence, which is so far the only piece to be done in horizontal stitches. I've used soft cotton, which has nearly enough body to stand up to the tapestry wool, and slightly more sheen, which also helps. You've probably noticed that I haven't extended my diversion to the broom, which looks a lot more like the birch besom my grandmama used to use in the garden. That's likely to be last of all, as I want to raise it over the rest of the stitching.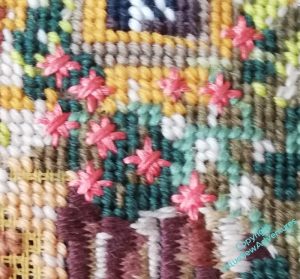 Since I was working at this size of the canvas I was reminded that I'd been leaving gaps for some of the flowers. Diagonal Double Cross Stitch makes for some huge flowers, which might very nearly be the size of dinner plates if scaled up and aren't at all cottagey – more Professor Branestawmy, in fact! – but they do stand out nicely against all the tent stitch, and they've enough personality to live with the fence, too..