A second conversation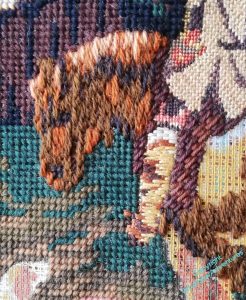 You may recall that I started on the horse in the canvaswork, and then suffered from Doubts. I thought it looked an unholy mess, and diverted my thoughts to the fence by the cottage. Which turned out very pleasingly, which is always a relief.
Then my cousin made a passing comment that helped me unstick the problem – she said that there are two conversations going on in the picture, one between the man and the woman, the other between the dog and the horse. That being the case, it seemed to me that I should maybe use the same technique for the dog and the horse, even the same sort of thread, so as to highlight the conversation.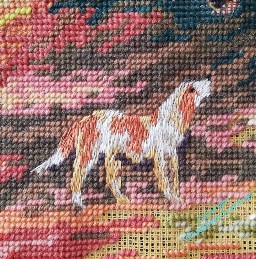 I wanted to create the impression of fur, but nothing too shaggy, so while I wrestled with unpicking the horse, I started on the dog. Stranded cotton, separated and recombined using several close colours (I have a lot of stranded cotton, so this is all still stash), and then worked upward from the feet and the end of the tail in something a bit like long and short stitch.
I think this has worked well. We have friends whose dog is a similar shape and colouring to this one, and it was fun to sit and stitch with her in mind.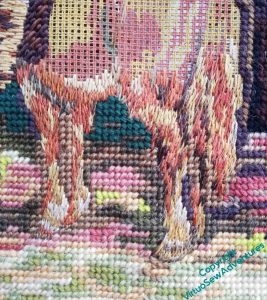 Of course, an entire horse (I'm calling him "Dobbin", of course!) is going to take some time to do, since I need to work upwards. But at least I've made a good start here, smaller stitches around the hoof, longer stitches, with still longer ones planned, for the tail.
He's a rough-coated working country horse, not a sleek and shining racehorse, so if the colours are clouded a bit, and the darks and lights not as distinct as they might be, that's all to the good.
I've continued to work on the tent stitch, too, every which way, as it is in the sections already worked when I got the canvas, so the whole thing is getting closer to being finished..