Last details..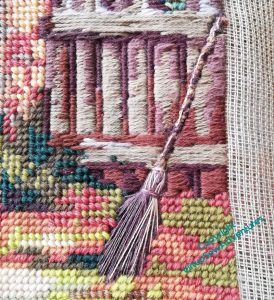 The birch besom leaning up against the fence rather caught my attention, because we had one when I was a little girl, and I've not seen another for years. Like all these low-tech looking things, it takes more to make one than you'd think, but they are good at what they're good at.
They're harder to make in stitches than you'd think, as well. I've used some fine unmercerised cotton, and some of that accursed stranded linen that DMC used to produce. Honestly, I'm all in favour of experimentation, but what one earth were they thinking? It's ridiculously fragile, even on a fabric with huge holes, it's uneven without being pretty, and it doesn't even produce texture. But it was the colours I needed, and I didn't want any shine…
At this point, I frolicked gently – it's finished! – and took it off the frame.
Only to discover that, in fact, it wasn't finished!
One colour of the chimney and a bit of one of the clouds remained unstitched. This wouldn't have happened if I'd been working on it from the start, but as it was passed on by someone else, and I think, looking at the stitching, that at least two someones before me were involved, I'm not surprised to find bits missing. Fortunately, they weren't hard to fix!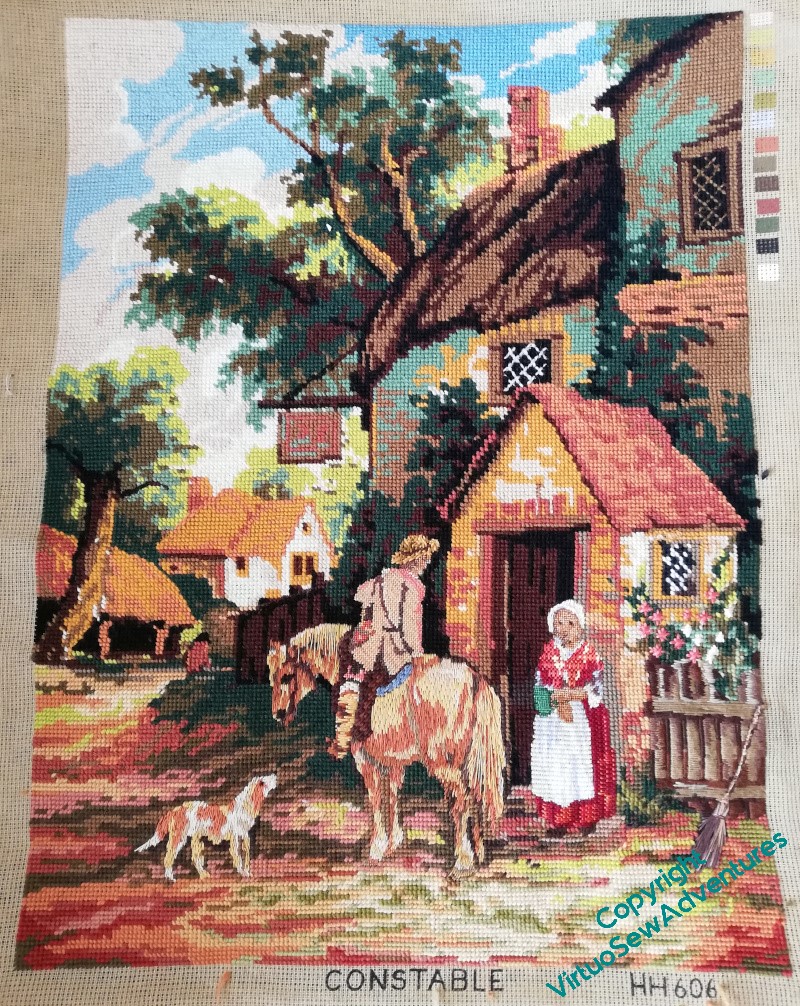 And now it really is finished! It's turned out much better than it might have done, and it wants blocking and mounting in some way, but I think our local charity shop stands a chance of selling it once that's done..
Update: my cousin is looking to furnish her office and has asked for it in return for a donation to my pet charity!