Tag:
Coral and Green
The next panel, I decided, needed a little more variation in colour. The thread is a 12-strand overdyed stranded cotton from Stef Francis, and I've had it for so long (like the canvas) that I don't know when I got it or what I had in mind for it at the time!
The stitch is Moorish Stitch, and again it is voided, leaving unstitched the row of tent stitches that alternate with the larger stitches under normal stitches.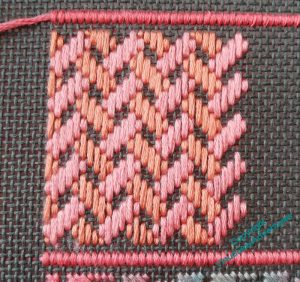 I went back to Jo Ippolito Christensen for the next stitch, Medieval Mosaic Stitch, and with the alterations I made it looks most unexpected. As diagrammed, it is almost a variation on Florentine stitch, with a thick-and-thin ribbon of stitches running across the piece. In choosing the section to void, I picked the two small stitches that form the "thin" part, and as a result, that element has been completely obscured, and it looks like a classical woven pattern. That effect is enhanced by the fact that I picked two shades of coral to use up, hoping that they'd last to the end if they shared the burden. They did!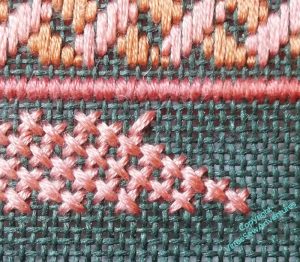 At this point, I think I have nearly enough stitched to make the sunglasses case I hope for, so I have mirrored the first section with another that leaves only one crossing-point voided. This is Staggered Crosses, and under normal circumstances there would be two different sizes of cross stitch contrasting with one another. I rather like this version, though!
Now I need to work out what form the glasses case will take, and what colour I'm going to back the canvas with, since it's going to show…
I've had this piece of forest green canvas for so long, I can't remember where it came from, and since my instinct with canvas is always to cover it completely, I've been at rather a loss as to what to do with it. Then I realised that a rather nice pair of sunglasses lack a case, and decided to Explore.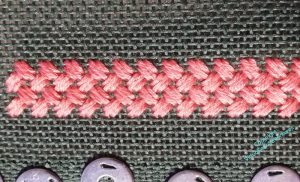 The recent ebay purchase of the much-recommended "The Needlepoint Book" by Jo Ipplolito Christensen (which gave me the river below Tynemouth Priory) has given me a starting point. This is Criss Cross Hungarian Stitch, and the single crossing thread is intentionally left unstitched, which has given me my next theme: each section will involve leaving void some portion of the pattern. After all, that dark green makes a lovely foil for all the coral, doesn't it!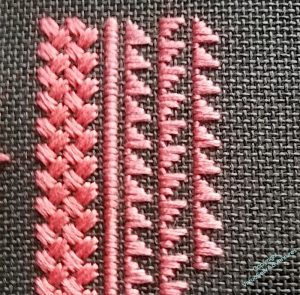 The second block is named "Wild Goose Chase", and there are a variety of ways I could have chosen to alternate stitching and voiding on this one. I think the one I chose in the end allows for a slightly smaller pattern block, and that, in turn, should protect the canvas. I am assuming that the stitch is named for, and inspired by, a quilting pattern.
I'm using a variety of elderly stranded cotton which came from a great aunt, so although I am going to try to keep to one shade per section, I'm not going to lose sleep over it if it becomes a bit of a hotchpotch!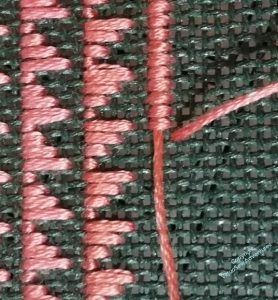 Which is just as well, because the very next row ended up in a slightly darker shade of coral than the previous one!
I'm also separating each band of stitching with a row of satin stitch, but an effort to even out the different coverage of the various threads, it is satin stitch padded with an unseparated stranded cotton.
There's something very pleasing about the coral against the green. I'm enjoying this!