Little Jacket Again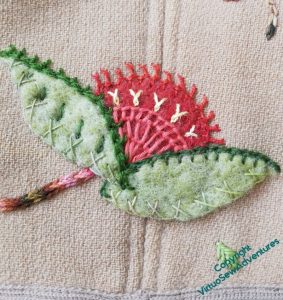 You might recall that this shape gave me some trouble when I was working the Coat of Many Flowers. Somehow, that wasn't the case this time. It appears twice, and while this one is very different to the other, I think it works.
I like the contrast between the Mountmellick stitch facing inwards on one leaf and outwards on the other, the Bonnet stitch edging over the central red section.
I do wonder whether there should be more of the single twisted chain stitches, but I think I'm happy to leave them as is. You might also note, just behind the copyright notice, a tiny Fishbone Stitch leaf. There are a few blemishes on the fabric – to be expected with a jacket that's probably at least thirty years old – and I'm covering them with these little leaves. I can add more if I find more snags or blemishes, and they will add a bit more fragmentation and frivolity.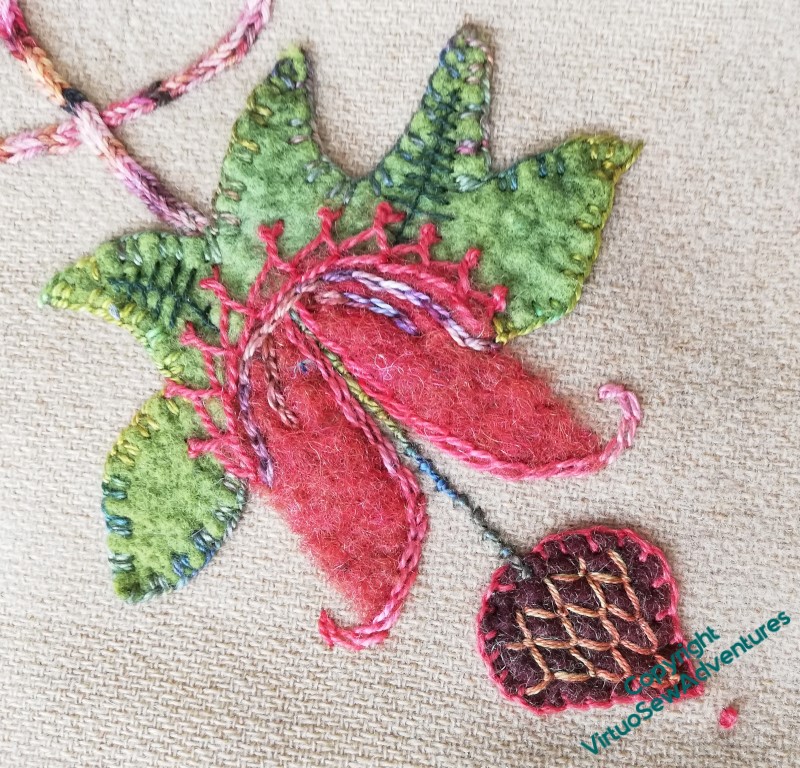 The whole theme of this design (if you can call it a Design, when it "just growed" like Topsy!) seems to be counterchange.
This one shows variegated thread and plain thread against plain felt and variegated felt. I've kept greens with greens and pinkish reds with pinkish reds, but the whole idea still lies in the layering of detail.
I'm pleased that I found a place for coral stitch as the stem supporting the brown shape, although the rayon yarn is an absolute monster to use. It tangles if you so much as look at it sharply, and while I would normally use a hoop to hold the fabric, giving me two hands for the thread, I'm reluctant to use a hoop on this fabric, so there was instead much muttering ..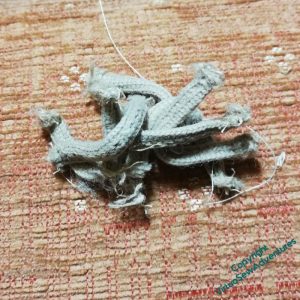 There was much muttering, also, as I took the toggle loops off. I'm not quite sure how I'm going to finish the edges of the jacket, when I get there, but I'm already sure I won't use the toggles and toggle loops which were already there.
They were attached by multiple overlapping lines of machine stitching, and since I wanted to avoid damage to the edging braid in case that remains the finished edge, I had to be very careful. Two evenings of fiddling and muttering produced this rather sad little heap of redundant loops.
But at least they are now off the jacket!