Tag:
pulled work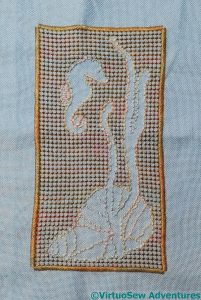 I started this traycloth years ago, largely to experiment with the pulled work stitch I used as the background of the decorative panel.
The idea was to have a sandy background against which the shells, seaweed, and seahorse would be set, and although I enjoyed doing it, it isn't the most successful of my embroidered experiments. It feels a bit lacklustre, but at the same time, I can't say I've been filled with enthusiasm by the idea of doing anything substantial with it.
While I thought about the details, to see whether I could find something that would work, I hemstitched around the edge, so I will have a useable, if not enchanting, traycloth.
Then I thought hard. Maybe something could be done to differentiate the various elements without actually unpicking them all. The upshot is that the backstitched outlines have been whipped with a different colour of thread in each case, to pull out the differences a little more.
It still isn't wholly successful, but it is now a usable traycloth and out of my welter of Unfinished Objects which occasionally leap, unanticipated, out of boxes I thought contained something else, to hit me in the face.
And that is most definitely a Good Thing!