17 UFOs in 2017
Meredithe (Pomegranate and Chintz) and Anne (Frayed At The Edge) are running a challenge for the year – 17 UFOs in 2017. The idea is not necessarily to finish, but to make substantial progress, on 17 UFOs.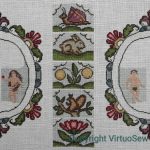 Now, I'm not sure I have that many UFOs, and I have many new projects I want to work on (more on those soon), but I do have a good few that are stalled, or that I'm not sure whether I've finished or not, so although I'm not going to join in regularly, I will try to use the impetus of the challenge to remind myself to assess progress.
1 Eve in the Garden of Eden – I really want to finish this so I can sign up for the Stumpwork Lion!
2 Nefertiti Shawl – well, clearly, I want to be able to wear this!
3 Queen Anne style teacloth – this is a travelling project, so it depends on where I go and whether I have light or time to work on it.
4 The Modern Stitch-Off – I'm not sure whether this is finished or not, so if I can at least decide that by the end of the year, I'll be pleased.
5 The Christmas Angel – I was going to work on the Christmas Angel last year between Christmas and Epiphany, and never set a stitch on it.
6 The Faience Necklace – this has been a real trial to me, as I can't bring the design into focus. I've got some lovely silk thread so maybe that will help me to get started.
7 The Swan – I got the first layer of Laid and Couched work done, and have had trouble working out the detail layer…
8 The Unicorn – again, first layer done, details escaping me.
I have a lot of other things I want to do, which are barely begun, never mind finished, and as I have said, in the case of several of these projects it is not a matter of simply stitching, so much as deciding what to stitch, and then stitching it.
My real target for the year with these eight is to have finished the Nefertiti Shawl and Eve in the Garden of Eden. Anything else is a bonus!