Tag:
EvelynRose
I've only just realised you've not seen the finishing of Evelyn Rose – I wrote the post then didn't schedule it!
The glint of the gauze shows up particularly well in this photograph of the rose, and you can see, too, the various different silk threads I've used to get the effect and shade I wanted. Tricky, because I didn't want a naturalistic, Redouté-style rose, but – because, as I said, they don't work with stems – I didn't want a canal-art style rose, either. I think I got it right, and I'm rather pleased!
This slightly "stencilled" type of leaf helps to keep the balance between "naturalistic" and "stylised". It also provides an opportunity for some rather striking shadows when the light is right, and I was delighted, throughout the stitching, to have moments like this, when it became clear that the idea was going to work just as I had hoped!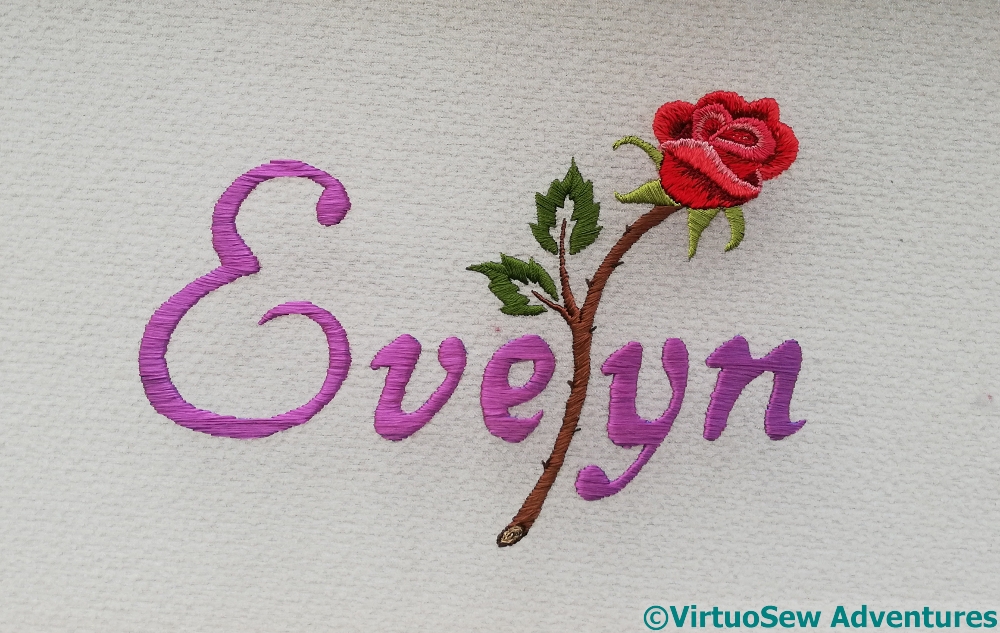 I knew that Evelyn's father, in particular, would be very disappointed if he discovered later about my usual Morse Code signature, and I hadn't done it for Evelyn, but making it small enough, and neat enough, and showing the stitches at the back as little as possible, was a little tricky. I twisted together several colours to get a fine, caterpillary thread, and worked my stitches as close to the stem as I could get them. In real life, it's very hard to see my signature, but I promise you, it's there!
The next challenge was to mount it. All this was happening only just pre-lockdown, so I went to see my wonderful framer, who goes by the (entirely deserved) name of Framing Genius. Between us, we came up with a way to create a sort of "sealed unit" of the embroidery and the mounts, so that I could post it overseas to our friends, who would then have something displayable until they can find a framer when such things are possible again.
Now, the next post in SlowTV Stitchery is now live – Episode Eighteen – on the desirability of imperfection and the likeness of mathematicians to cats!