Exhibition – For Worship and Glory II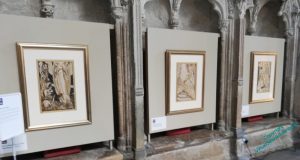 A few weeks ago I went to see the Royal School of Needlework Exhibition "For Worship and Glory", in its second incarnation, in the Lady Chapel in Ely. The centrepiece of the exhibition was a series of embroideries inspired by the Litany of Loreto, donated to the RSN when Mayfield Convent in Surrey was closed during the 1970s. Since I saw the first version of the exhibition a few years ago, it has been discovered that the designs were created by an Italian graphic designer, Ezio Anichini, at the beginning of the 20th Century.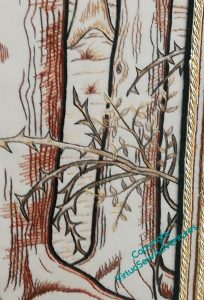 The panels are in a very restricted palette using silk floss and filoselle – browns and golds, some black, and a very tiny amount of blue, and although the stitches are described as "mostly long and short", with the addition of stem stitch, split stitch and straight stitches, the panels didn't have the heaviness I associate with long and short stitch. On the contrary, my primary impression was to be astonished and impressed by the manner in which the works were clearly embroideries and yet maintained a kinship with the drawn design. Look at the bark on this picture, the sketchy and textural feel to it, contrasting with the almost naturalistic rendering of the briars.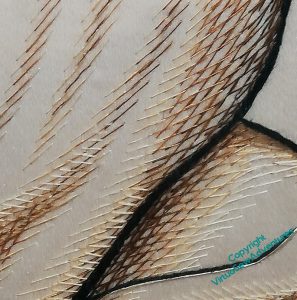 Even more strikingly – and my phone camera, in spite of the wonderful light in Ely's Lady Chapel, really wasn't up to the task – look at the rendering of the folds of fabric here. The stitches are just straight stitches, using carefully chosen shades and thicknesses of thread, at carefully judged spacings and angles, and yet the impression of flowing folds in fabric is beautifully realized.
I was very glad I'd thought to take my lorgnettes, because there were so many enchantingly embodied ideas that I wanted to examine!