William's Castle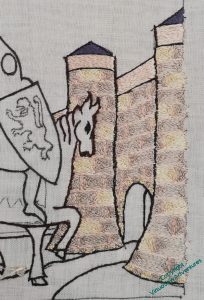 I'm trying to work this systematically (I may also be slightly anxious about tackling William!), so the first thing was to finish the castle.
And there's a lot of castle…
The yellow blocks appear only on every other row, and I've tried to make sure that they never line up. Once I'd worked the gatehouse itself I carried on to work the wall behind it, and then paused for thought.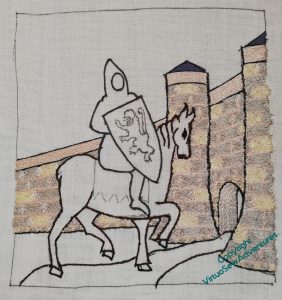 The interesting question at this point was to decide how to work the wall inside the gatehouse, the "tunnel", if you like. I wanted some evident difference in relation to the blocks of stone in the walls, and in the end, settled on alternating rows of grey (stone) and pink (mortar), turning them vertically, following the curve of the arch as best as I could. As I went deeper into the tunnel there were more lines of grey between the pink, although to say the difference is subtle is to rather understate the case!
It is a constant delight to look at the way the silk changes in appearance as the stitches change direction, and even more so to change the angle of view, so I suspect you will see a good few shots like this over the course of the piece.
Doesn't it look lovely – and don't these quiet, pearly tones help to create the fairytale atmosphere I'm looking for!