Continuing to experiment with Manawatu Gorge..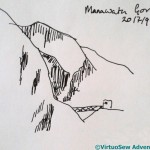 One should always try to think a project through at least a little bit. I didn't. I thought that once I got started this would be easier than it turned out to be.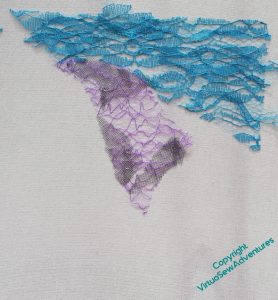 The black net was fairly easy to cut and catch down, and I wanted that to stand in for the shaded areas on the sketch, but the purple net was an unrelieved menace – it caught on the threads I used, and tied itself in knots, and even failed to have a bit of itself under some of the stitches I made, so it didn't stay in place. All in all, rather exasperating, and even worse when I decided that it wasn't, in fact, doing what I wanted it to do, and had to remove it again!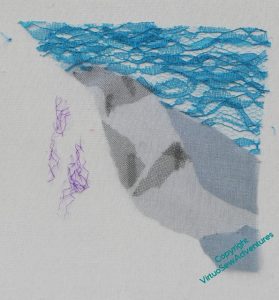 I'm still meditating on the possibility of a canvaswork version of this, possibly made even more abstract, but I still want to finish this one some way, so, onward!
I had another look at the sketch and realised that the engine house for the bridge needed something to stand on – that explains that extra bit of gauze in the bottom right-hand corner. Then I decided that I would roll back from the complicated bits of layering I'd been planning, and simply try to create recession with tone. So far, I think it is working…