Tynemouth Priory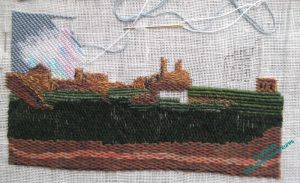 Now then, this is an old friend, and everyone who's been following my SlowTV Stitchery will be aware that since this is the Year of Finishes, I've decided to finish it. This is the first "Tynemouth Priory", which I started, only to decide that the colours were all wrong against the Flag Sunrise, and I had to start again. I'm glad I did, because the second version fitted into the complete "Leaving The Tyne, 1915" very much better than this one would have done.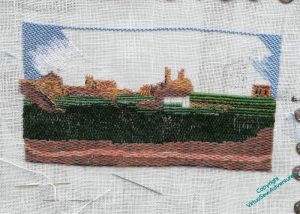 However, when I came back to it and started stitching again, I realised that the variegated thread I was using in the cloud may have looked right in the skein, but it wasn't right when it was stitched.
Sigh.
Time to channel my inner Penelope, and unravel at night everything I had worked during the day.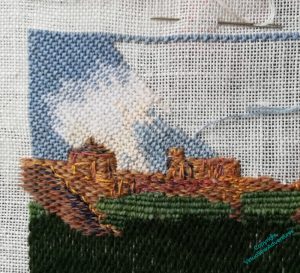 I picked out two slightly different pale cream stranded cottons to take the place of the variegated thread, and a stranded cotton in a slightly lighter blue than the coton a broder, to go near the horizon, and I'm now reinstating it, with interesting diversions to create cloud-like effects.
At this point I was still feeling very tentative, but I think the sky is improving as I progress across it!
Episode 60 of SlowTV Stitchery is now live. In which is considered making a virtue out of a necessity, arguments with the ghost of Miss Hunter, and a plea is made for an Introduction to the Picts, all supplemented with some meditations on literary sources for future projects.