Back to the Hunting Cat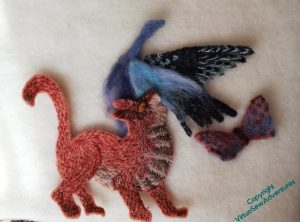 It has been a very long time since you saw the Hunting Cat, partly because I got distracted, and partlyly because I had such a disheartening time with the bird's wings. Once I'd got the Amarna Family completed, at least to the point of wondering how to display it, the Cat started to haunt my off-duty moments, mewing imperatively that he wanted to be Finished.
It is extraordinarily difficult to concentrate on anything with a felt cat howling in the background. I wouldn't wish it on my worst enemy!
I took the bits and pieces to my mother, the artist, and we wrestled with several versions of the bird, orientations of the butterfly, and my additions of the lotus flowers and stems.
As with the Two Little Princesses and the Frolicking Calf, I want to balance my source material with my invention, and the purity of a single technique (needlefelting) with the variation available through stitchery. Cutting between the pinions of the wings helped to lighten the effect, and the wispiness of the front wing and the lotus flowers begin to balance one another.
The blue body of the bird, and the stems and flowers, begin to move away from the original inspiration, but begin to reintroduce the lightness of the original, which I lost when I tried to reproduce it. So I think you could say there is hope!
Episode 58 of SlowTV Stitchery is now live In which we begin to finish Tynemouth Priory, and I am pleased to find myself still content with how I started it. I begin also to consider another jacket embellishment.