An experiment for Placidus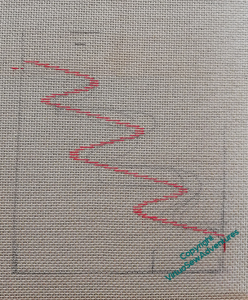 Bear with me, please!
At the moment, the idea for The Vision of Placidus is that the main picture – the encounter between Placidus and the Christ/Stag – will be framed with a depiction of denizens of the natural world – underwater creatures in the lower section, bulrushes and dragonflies in the upright sections, and birds in the upper section. I've been thinking of putting the symbols of the Evangelists in the corners, to obviate the necessity of dealing with getting the design around those corners.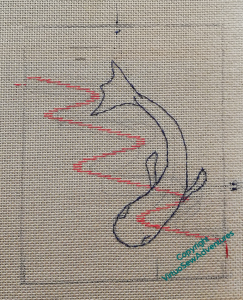 However, what I've not yet sorted out is the technique I might choose to use. This is going to be an experiment to see whether using canvaswork – a sort of freeform Bargello with embellishments – will create a pleasing effect.
I was really very pleased with how quickly this came together when I began thinking about it. The red line is a guide for the freeform Bargello, representing the current in a stream, and the fish is simply there to help me test how to deal with the boarders between the flowing background and the motifs.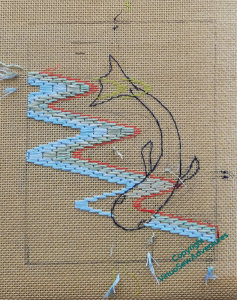 That might be easiest to achieve if I worked the fish, and then added in the background, but if I do that, I think it will be nearly impossible to place the background correctly on the far side of the fish. So this time, I'm doing the background first, putting in the stitches across the fish in sewing cotton, as a sort of "draft".
I'm using stranded cotton, separated and combined to create blended shades. As it turns out, six strands are not quite enough for full coverage, so here I am using nine.
Episode 51 of Slow TV Stitcery is now live, including a comparision of bone and steel laying tools, consideration of two possibilities to experiment with for Placidus, and thoughts about taking sagas seriously.