Finishing the Stash Busting Cushion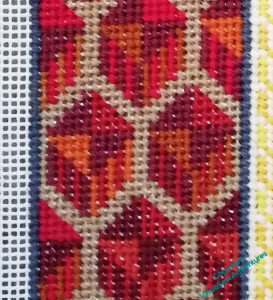 Remember this? Remember how suprised I was at just how much I was enjoying canvaswork?
I found the last pattern in "Victorian Needlepoint" by Freda Parker, another one inherited in a bundle. I keep meaning to have a good rummage in that bookshelf, and work out what I want to keep, but as it is, it makes a good resouce when I'm looking for "something, I don't know what, but I will know it when I see it".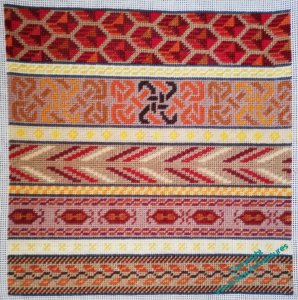 Since I'm stash busting, I used several different skein remnants for each colour on the chart, so the pattern has more variety than drawn. There are three shades in the very darkest sections, and I was surprised by how little difference two of them showed once they were stitched. You learn things at the oddest times.
That panel is the last, by the way, because at this point I ran out of canvas!
It does, however, make a squarish, ornamental panel. If I can find some suitable fabric, I can give it a backing and turn it into a cushion.
Episode 52 of SlowTV Stitchery is now live, in which I challenge you all to name some works of fiction in which needlework has a prominent and positive role…