Developments on the View of the Excavation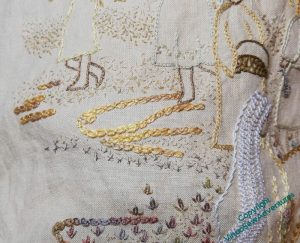 I love my worklight. It gives a wonderfully crisp and bright light to work from, and it can even be useful in bright daylight because it washes out deep shadows that confuse the eye. By and large, it also gives a better idea of true colour than the earlier one I had, which didn't have the "throw" to reach from my side table to my hands, and tended towards the blue.
However, just every now and again, it doesn't quite hit the nail on the head, as it were, and this is a case in point. That row of Knotted Cross stitch is plainly in too cold a colour for the surrounding stitches, and yet when I was picking the colour, using my worklight, the thread looked good, a warm darkish olive-brown. When I looked at the stitches having completed them, it looked much colder, just plain Wrong. Out it comes!

I tend only to unpick first thing in the morning, so rather than continue with the seeding, I went back at that point to the title stitching. And it's finished!
It's not entirely even, but neither was the stitching on the Map, and I like the unevenness. It recalls the unevenness of the ground, particularly as the dig advances across the area, and it is just the right weight to anchor the picture.
Working on this section has reminded me of just how much I enjoy working on embroidery in the hand. As I work on William, or on goldwork pieces, or even canvaswork, all of them in a frame with fabric held taut, there is something that I miss about holding the fabric in my hand, taking my stitches and wrapping my threads. I think I need to make sure, for the future, that I have a suitable "in the hand" piece on hand, as it were, to keep me connected to my first love of stitching – the stitches themselves.