Getting going on that canvaswork picture
One of the nice things about the double thread canvases commonly used for painted canvas designs is that you can decide to go right off-piste with them, separate the threads, and use stitches at a different scale.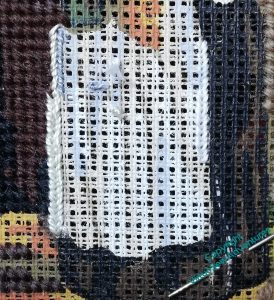 I'm going to do that with the characters – the woman, the horse and his rider, and the dog – on this piece, because in that way I will be able to use stash threads, and enjoy exploring the highways and byways of ornamental canvaswork stitchery. It may well unbalance the finished piece, so I may not regard it as a success when complete, but I will have had fun along the way!
This, however, was a false start. The stitch is Kelim stitch, or something like that, and the threads are pearl cottons. I was aiming for something that would look a little like a sturdy linen twill, but this didn't seem to me to be the right choice after all.
One of the disadvantages of going down to petit point scale is that unpicking is a real nightmare. Not fun at all. <shudders dramatically>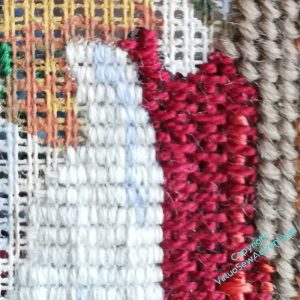 I'm much happier with this. I've used trammed Gobelins stitch for the apron, and found a use for the dreadful lifeless slubby linen thread that DMC brought out – 20 years ago now? – which I bought because it looked interesting and have found a heartbreaking material to use every time I've tried. In this context, it worked very much better than I expected. There's no shine, so it looks like a heavy, sturdy fabric, and the colour variations, much subtler than if I'd used the designated wool colours, recall the appearance of a crumpled linen fabric, its crisp white knocked back by dust and grime.
The skirt is a combination of a rather gorgeous rayon filament for the lighter sections with a pearl cotton for the darker ones, and I've turned Parisian Stitch from vertical to horizontal to help me to create contrasts with the shawl the woman has around her shoulders.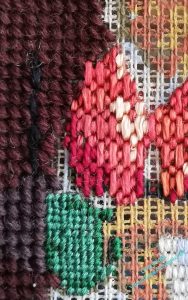 The shawl is in Parisian Stripe Stitch (there's an extra row of small vertical stitches, which keeps the long stitches in alignment).
I may have ended up with not quite the right shade of green for the vessel the woman is holding. Something about it reminded me of the bright green glazed fragments that used to come out of trenches on Time Team, of happy memory, so I decided to go with the colour, and maybe adjust later when I have everything else in place. I've done my best to add a little shape and shading, but in due course I may stitch over this in curving long-&-short stitches. It's straightforward Madeira stranded cotton, and I know I've not finished the skein!
And in other news, Episode 75 of SlowTV Stitchery is now live. In which we discuss the felt "coloured sketch" of the Dig House, John Pendlebury, the obstreperousness of William Marshall, and look ahead to finishing the Amarna Family Group.