Another new project to think about
Remember this? It was an exploration of canvaswork, a very long time ago, and when I'd finished it, I hadn't the vaguest idea what to do with it. Then my cousin said she knew exactly what to do with it, and could she have it, please?
She and her local soft furnishing people turned it into a rather fabulous cushion, and it has been sitting happily kicking welly-booted heels in the air on a chair in her conservatory ever since.
Fast forward to some recent reorganising in her house, and she has a another chair that might be interested in a companion piece. Not the same shape, and not the same canvas, fortunately, and not necessarily the same colours either, just similar. I have to find the canvas before I can get excited about this one, so it will be a while, but I do have something to think about.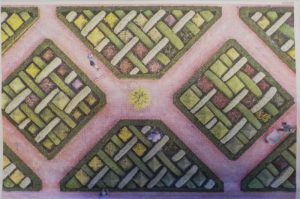 My cousin found a gorgeous drone shot of a knot garden in a National Trust property, and said "Start from this!". The central tree might even end up as a sculpted piece of one of the pile stitches – that would be fun, wouldn't it!
I'm thinking I might choose to use a brown canvas this time, and use as many variegated greens as I can lay my hands on. But as I'm not sure where I'll find the canvas, my ideas have plenty of time in which to change….