Finishing Silkie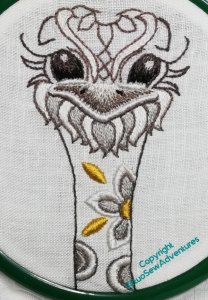 The next stage with Silkie were the main details on the head. The eyes, the beak, and the beard were all long and short stitch, which is not a favourite of mine, as long term readers are very well aware.
However, I have now grown reconciled to long and short stitch to the extent that, if I believe it to be the right choice, I will settle to it without too much grousing. Just a token mutter or two!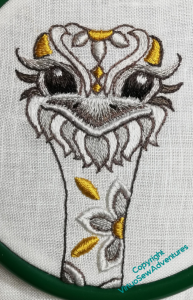 In truth, satin stitch isn't a huge favourite, either, but the jewel-like golden shapes were what attracted me to Silkie when I saw the kit in the shop, and besides, silk thread is such a joy to use, and so rewarding in both satin stitch and long and short stitch.
So Silkie's decorations, eyelashes, and bushy eyebrows all came together in something of a rush, and brought the goofy expression properly to life.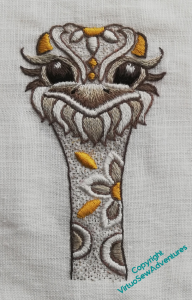 The final detail was to seed stitch the neck and the forehead. As it happened, I couldn't find anywhere in the instructions the detail of which colours to choose, so the final detail may not be as intended.
But I like it – lighter on the forehead where the eyes, eyebrows and beak all concentrate the darker colours, and darker on the neck to bring out the flower with its un-outlined petals.
Now I need to work out where to put Silkie so I can continue to enjoy him!
Episode 49 of SlowTV Stitchery is now live. In which we tackle the Angel's hair, remember the Great Ladys Magazine StitchOff, and consider music while we work.