Stash Busting Canvaswork Footstool – 3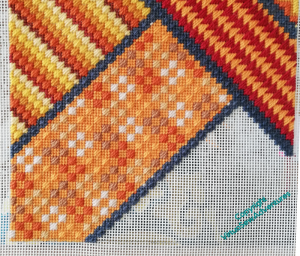 The notion that was guiding me – apart from stash busting – was of the colours getting lighter as they spiral out from the central point on either side of the central bar. So I picked more colours that I had enough of (see the constant balancing act I was involved in here?), and this time, stitch patterns which were squarish, rather than stripy. This is Checquer Stitch, and somehow by the time I'd finished the alternation of the colours, I ended up with something that rather reminded me of a Welsh Tapestry blanket. I'm happy with that – I was born in Wales, after all!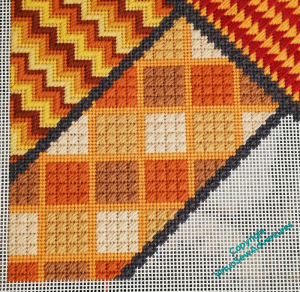 The balancing panel is even squarer. I suppose it is another variant – rather as with the Moorish Stitch Variation, I've moved all the tent stitches to the edges to form a grid. I think it still has enough family resemblence both to the original stitch and to the "Welsh Tapestry" version to balance them.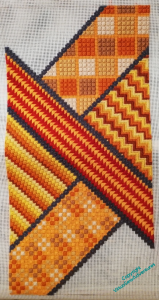 So here is stage two completed.
I think the balance and harmony I'm trying to create really are still there, but I feel as though I've rather shot my bolt. I've mislaid my canvaswork books and I can't think of another suitable pair of diagonal stitches to use.
However, the first thing to do is to find a suitable set of colours. Onward, ever onward!
In the meantime, Epsiode 41 of SlowTV Stitchery is now live. A fairly quiet episode, this, which nonetheless discusses musical deceleration and taking refuge in learning things, while also anticipating the enjoyment of a Holiday Project.