The Stash Busting Footstool, 4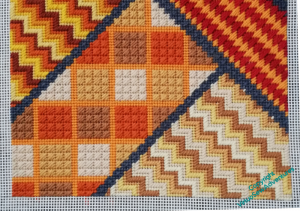 After a bit of thought and discussion, my mother suggested that for the last two panels, I should consider doing the same as on the far side of the central panel, but in a different set of colours. I had wanted to lighten the colours as they came away from the central panel, so that's the scheme I used to pick the colours.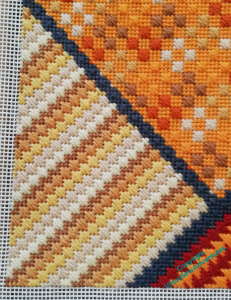 That, and making sure that I thought I would have enough of each colour to do both panels!
I then made things slightly harder for myself by deciding to line up the stripes across the central panels, but it was definitely worth doing. As I've said before, when upcycling, mending, or dealing with slightly not-entirely-planned projects, the whole secret is to make it all look deliberately planned – that's why my mending tends to be embellished in a variety of ways.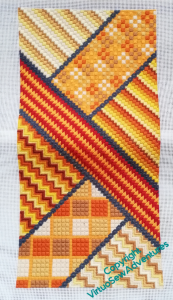 Here is the finished canvaswork.
Actually, it isn't. When I took it off the frame and took it to meet the footstool it's intended for, I found it was an inch too short, in spite of what I believed to have been some careful measuring.
Clearly not careful enough!
I'm going to add half an inch to each end, and then consider the next step!
In other news, Episode 42 of Slow TV Stitchery is now live. In which I think I may have got to grips with the pattern, consider the adventures of Sir John de Mandeville, and consider the question of Music To Stitch To…