Finally, completely finished!
More progress on SlowTVStitchery – Episode Eight is now up. It contains intimations of dilemmas to come… Enjoy!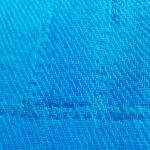 After washing the pashmina for the lining several times (it dyed the water bright turquoise the first three times at least, with no discernible fading in the fabric), ironing both of them, and pinning them together with safety pins, I settled down with my turquoise silk thread and ran simple running stitch quilting along all the gold lines of the design. This was easiest to do, I found, by cutting the thread to a little over the width of the pashmina and starting in the middle of both the thread and the shawl. Once the main lines were in place, I went back to the polychrome band and added the extra lines of stitching to delineate the frame.
It's not easy to see, although I've done my best with this photo, but I've worked several rows of variegated golden lines across the pashmina on the otherwise undecorated end. I felt, when I finished the polychrome band that the whole thing looked a little unbalanced, and needed something to prevent the impression of something just fading out. I used Wavy Chain, Shell Chain, and Cable Chain, which are used on the other end, too.
And here is the polychrome band. You can see that the proportions aren't quite perfect, but it is very much in the spirit of the StitchOff that the pashmina was originally bought for, in that it is intended to be worn and enjoyed, not stuck up on a wall. It wasn't quick to do, but that is the fault of my own talent for over complication!
At long last, the Nefertiti Shawl is finished and lined, the lining has been controlled with lines of stitching, and the whole thing has been pressed. It should be seriously cosy – the lining is another cashmere pashmina, and it clings slightly as I wrap it around myself. It's not an easy piece to photograph, hence the languorous drape over the sofa!