Poppies And Wheat, Cleaned and Conserved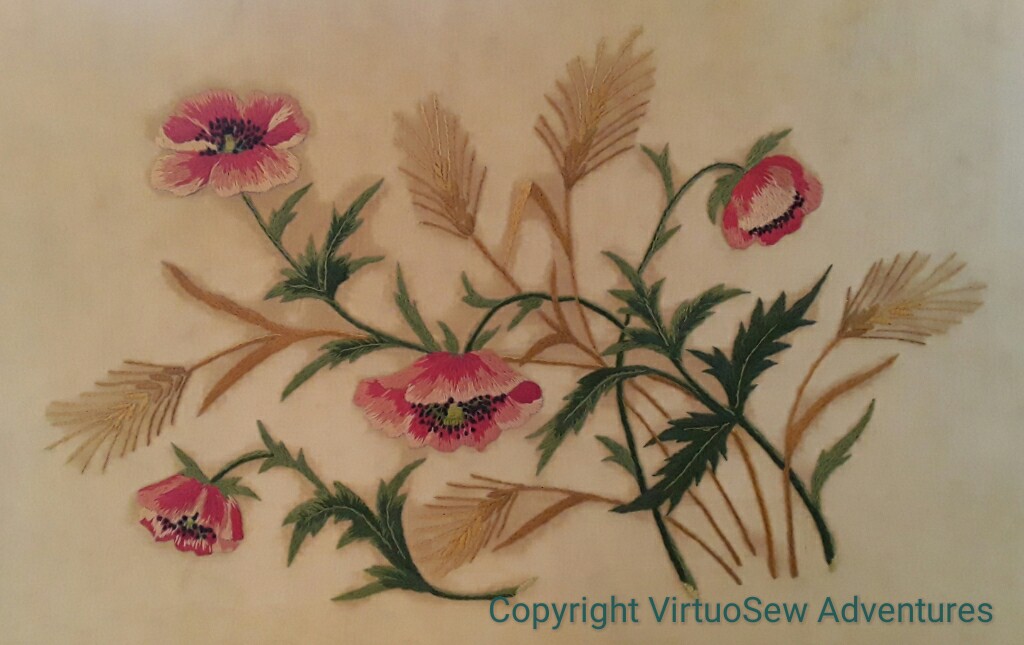 Some of you may recall that some time ago, my mother and I were planning to reframe one of my Grandmama's embroideries, and discovered to our horror that it had been glued to a backing board made of strawboard.
In due course, we found a textile restorer, not too far away, and I took it to her. And now we have it back again. In the course of the work, it was discovered that two different sorts of glue had been used. One of them was unstuck fairly easily, but a particularly acidic glue had been used on the back of the embroidery itself – almost as if the framer did not believe the work had been finished off properly. Which it had – apparently it was very difficult to find some threads to take out to test for colourfastness!
The fabric and thread are both much brighter than they were, but the very acidic glue that was used is the reason for the bloom of staining around the embroidery. It's much reduced, but unfortunately it wasn't possible to remove it entirely.
So, Gentle Reader – be careful with glues and boards. Avoid if you can, use neutral-pH as far as you can, or someone in the future will be muttering imprecations in your direction!