Tag:
Faience Hippopotamus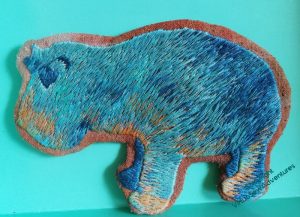 Once I had some sense that I knew which blocks went where, and what shape I wanted them to be, I could begin to mount them. Some of them will be distinctly tricky, such as the Lotus Tile Fragments, the Nile Tilapia, and (especially), the Faience Hippopotamus.
Since I also picked up a shoulder injury, all this was slowed down by the necessity to do little bits at a time, rather than a whole orgy of concentration.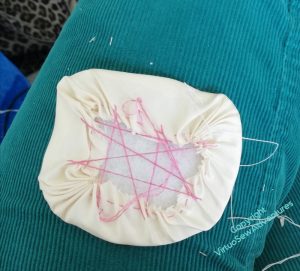 I worked on the Lotus Tile Fragment while I was stewarding an exhibition that some of my paintings were in. It's a good idea to have something to do that's small and easy to put down for that sort of occasion. It's not a great look to loom at people who've come to stroll around, but equally, sitting, hands folded, demure and silent, might also put them off. Looking up with a friendly grin and then returning to something that's plainly small and interruptible is a useful position between those extremes. ( I sold a painting, too!)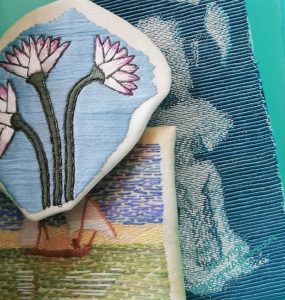 I had a very useful, and suitably faience coloured little box to hand in which all the pieces, so far, have fit rather neatly, keeping them dust-free and untangled.
It's remarkably satisfying to see them all stacking up, and I have had an idea about details of display in the eventual, hoped-for, exhibition: I could do "record cards" for each piece in the style of something recorded from an excavation, thus providing information, but maintaining the theme.
So now, the question is – what information should I include?